"I need a privacy hedge but my yard gets a lot of shade. Is there anything I can grow? Hedges that grow in shade!
I'm desperate!"
Sound familiar? This is a very common question, so you are not alone.
Shady locations can present some unique challenges. Some sites are very dry, while others can be nice and moist. Sometimes a hedge is desired to stretch through both full sun areas and full shade areas, and you need something that can do both seamlessly.
There are plenty of great hedges for shade best for shady locations. The partial shade has a few more to choose from, but some will tolerate deep shade. Here are our top five favorite hedges for shade:
5. Schip laurel (Prunus laurocerasus 'Schipkaensis')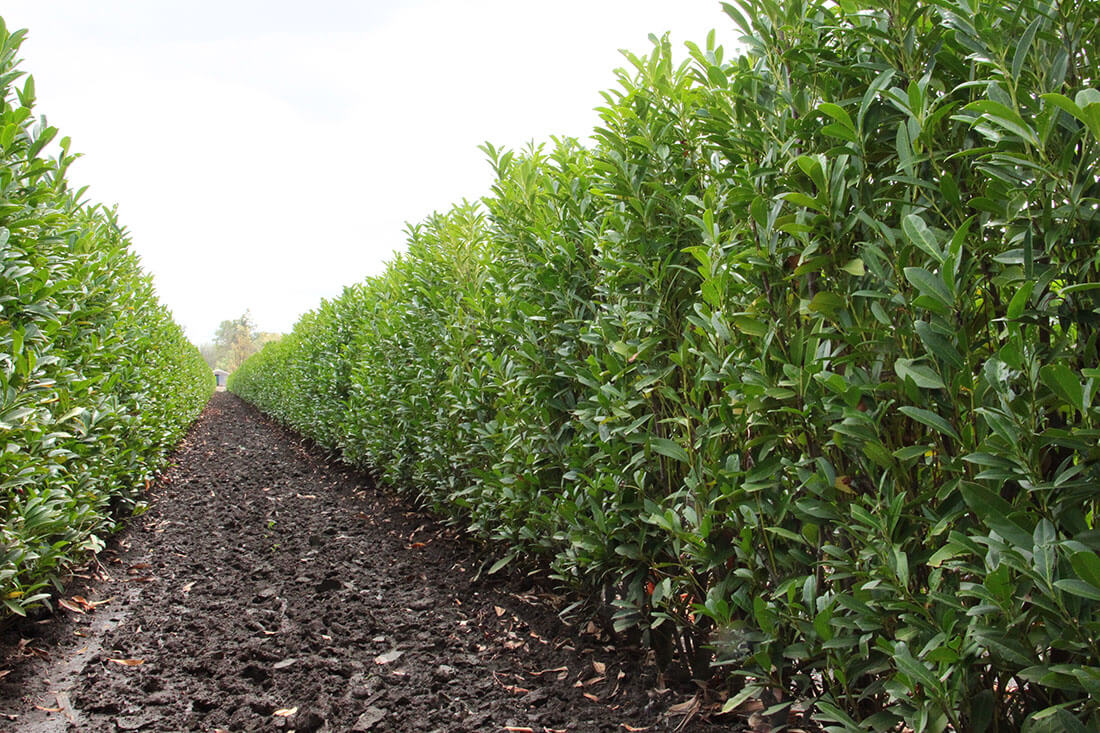 Cherry laurels typically require a lot of sun, but Schip laurel can take partial shade as well. Its glossy, broad, evergreen leaves create a lush look in a shady spot. It is also drought-tolerant, making it perfect for dry shade. If you have a partially shaded property line and looking get a privacy (green all year) then cherry laurel is a great privacy trees that grow in shade. It is a fast, upright grower that quickly creates a tall, dense privacy screen.
Evergreen | Full Sun to Partial Shade | USDA Zones 6-9
Evergreen
Full Sun to Partial Shade
USDA Zones 6-9
Deer Resistant
4. Teton Firethorn (Pyracantha 'Teton')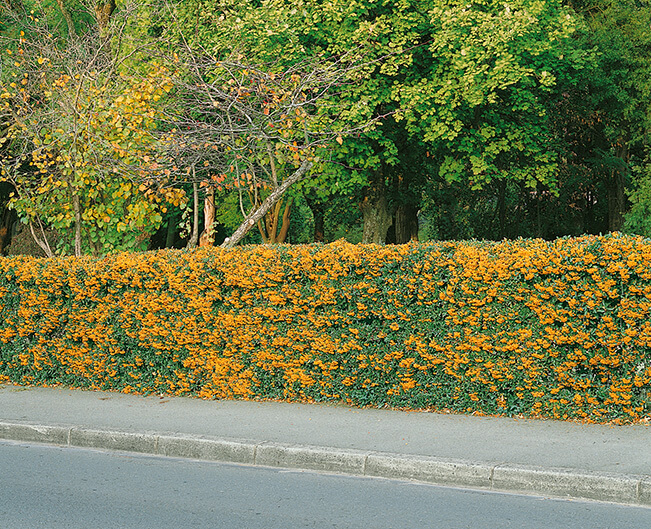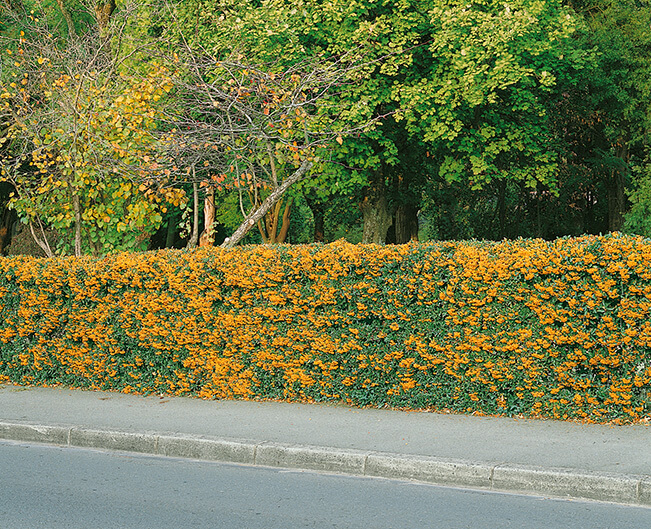 For some bright winter color in shady garden areas, Teton Firethorn gives a spectacular show. It will produce more berries with more sun, but still has a wonderful orange berry display from fall through later winter in partial shade. It is covered in small, white flowers in late spring. Bee and bird friendly! Planning to get hedges for shade which is wildlife friendly? Teton firethorn is well considered.
Evergreen
Full Sun to Partial Shade (prefers some afternoon sun)
USDA Zones 6-9
Deer-Resistant
3. Green Giant Arborvitae (Thuja x 'Green Giant') & Virescens Western
Red Cedar (Thuja plicata 'Virescens')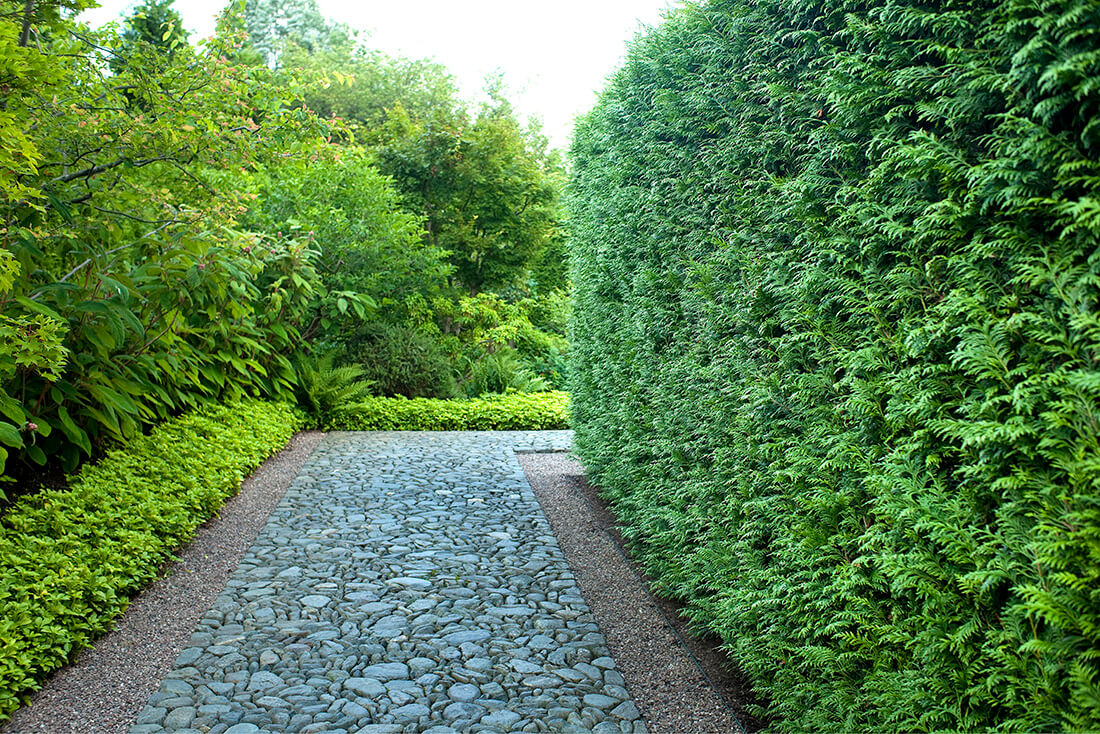 Yes, these are two separate plants but they can be grouped together since they are related. Green Giant is a hybrid with Western Red Cedar as one of the parents. Virescens is an upright-growing variety of Western Red Cedar. Both are fast-growing (Green Giant especially) and tolerate quite a lot of shade. Both have a nice, feathery texture and grow well in a moist but well-draining soil. Going for such separate privacy shrubs for shade creates good screening as well. Green giant is one of the best evergreens that grow in shade.
Evergreen
Full Sun to Partial Shade
USDA Zones 5-9
Deer-Resistant
Learn more about Green Giant Arborvitae and Virescens Western Red Cedar
2. European Beech (Fagus sylvatica)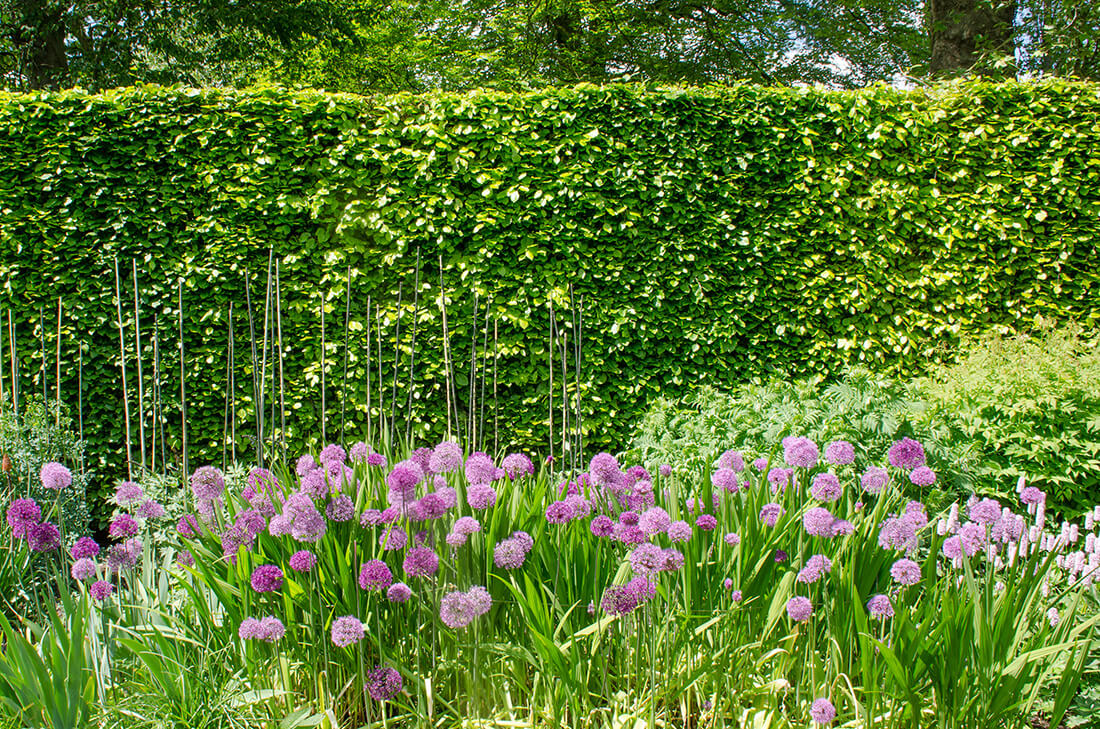 European beech is a beautiful choice as hedging plant for shade. With lush, green foliage in summer, nice fall color, and a unique copper look in winter, it gives seasonal interest while tolerating full sun to full shade. It prefers a dry or moist shade but does not like waterlogged or poorly-draining soil. European Beech can be considered as one of the best plants that grow in shade.
Deciduous
Full Sun to Full Shade
USDA Zones 5-8
1. Hicks Yew (Taxus x media 'Hicksii')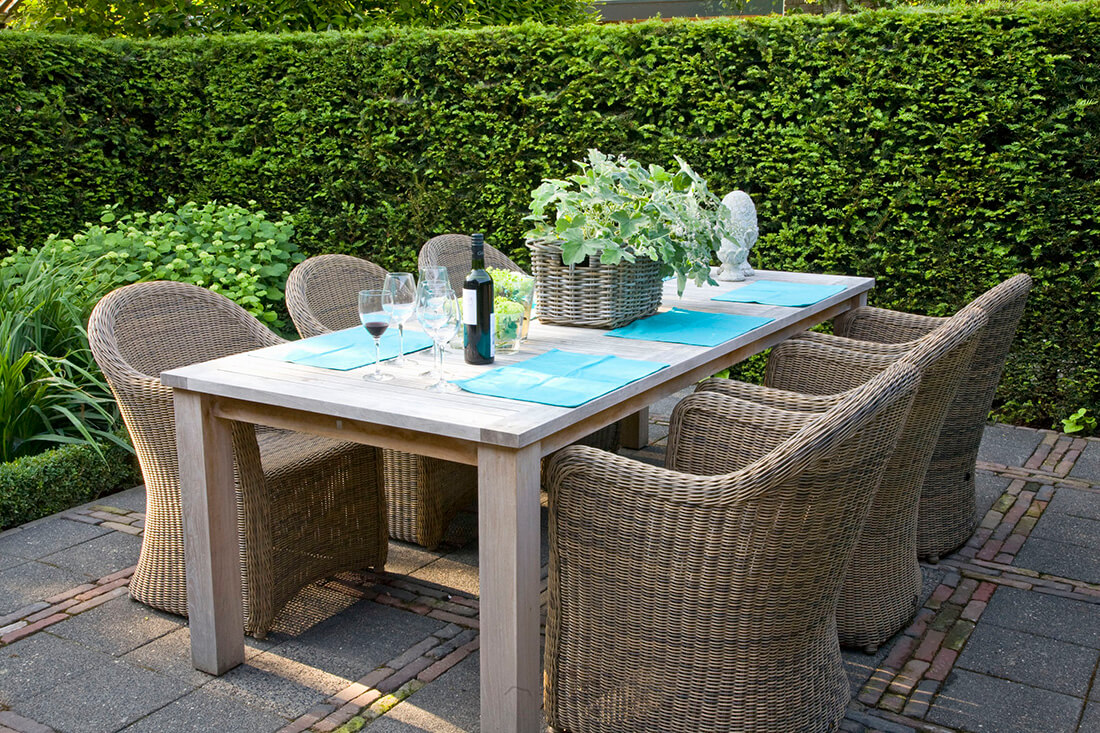 Hicks Yew is without a doubt is one of the top hedging plants choice for deep shade conditions. It is extremely versatile and can be grown in full sun, partial shade, or full shade. Its dark green needles and bright red berries provide beautiful color and contract in shady spots. Yew shrub hedge for shade performs beautifully in shady location.
It responds well to shearing and is just as well suited to an old-fashioned cottage garden as it is to a modern or contemporary setting. It does well in dry or moist shade but does not tolerate poorly-draining soil.
Evergreen
Full Sun to Full Shade
USDA Zones 5-8