This is a message of hope for anyone living in a cold climate who has given up hope of being able to grow an interesting hedge: you have options! Yes, cherry laurel, yew, and beech are extremely popular in the Zone 5 and up crowd, but don't think for a moment that there aren't beautiful choices for the Zone 4 and below folks as well.
These are our favorite cold-hardy hedge varieties:
Hardy to USDA Zone 4 (winter temperatures down to -30°F)
Green Mountain Boxwood (Buxus x 'Green Mountain') is a hybrid box hedge that was bred in Canada for superior cold tolerance. It has become one of the most popular boxwood varieties available on the market. It can be grown in parts of every state! Other benefits include deer and rabbit resistance, sun and shade tolerance, evergreen foliage, and a growth rate that is easy to maintain. Green Mountain is perfect for low borders and knot gardens.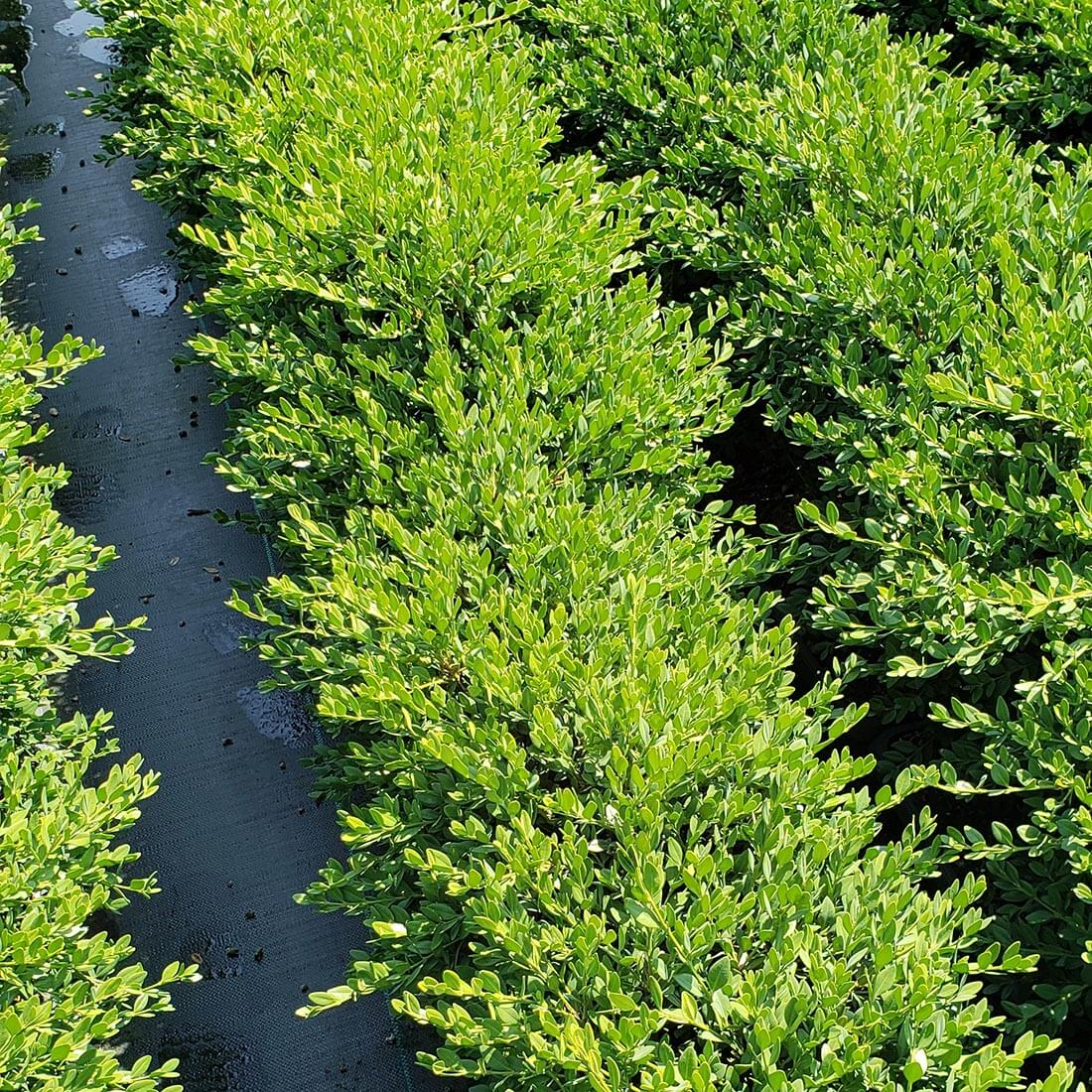 Green Mountain Boxwood growing in spring
Wichita Blue Juniper (Juniperus scopulorum 'Wichita Blue') has stunning, powder-blue, needle-type foliage that creates a striking hedge. It is native to the Rocky Mountains and is a great choice for cold, dry climates. It is deer resistant, evergreen, easy to maintain, drought-tolerant, and grows well in full sun. Wichita Blue makes a uniquely beautiful privacy hedge or medium height hedge for design.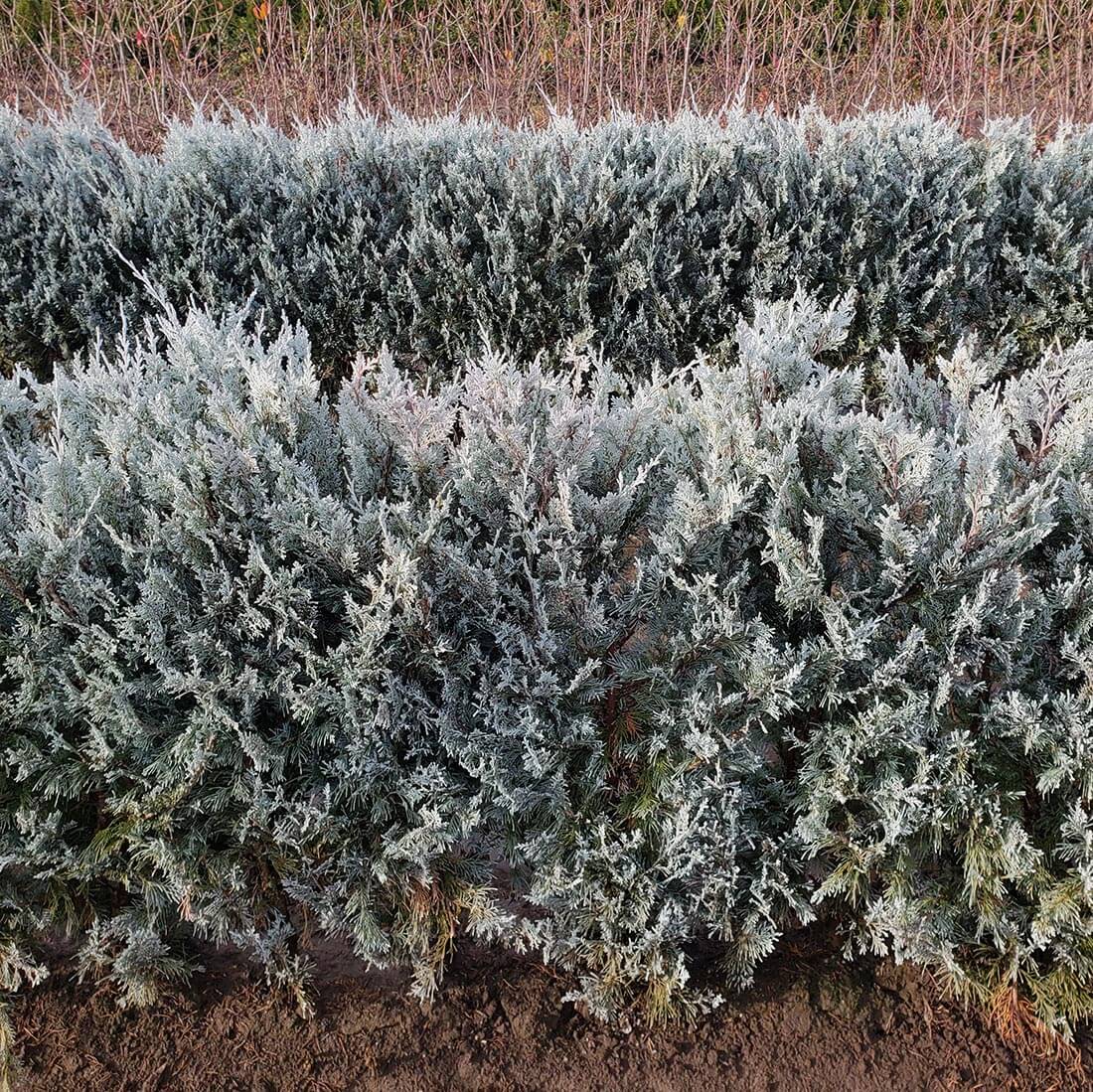 Wichita Blue Juniper hedges in winter
Hardy to USDA Zone 3 (winter temperatures down to -40°F)
Flame Amur Maple (Acer ginnala 'Flame') has lush, green foliage in the spring and summer with vibrant fall colors in hues of yellow, red, and orange (hence its name). It has a quick growth rate and creates a nice privacy screen in summer, while allowing light through its bare branches in the winter. It hedges very well and has a naturally multi-trunked habit. It grows well in full sun to partial shade, is more drought tolerant than most maples, has fair deer-resistance, and does not have any major disease issues. Flame make an excellent privacy hedge for the spring and summer months and adds wonderful seasonal interest to a landscape.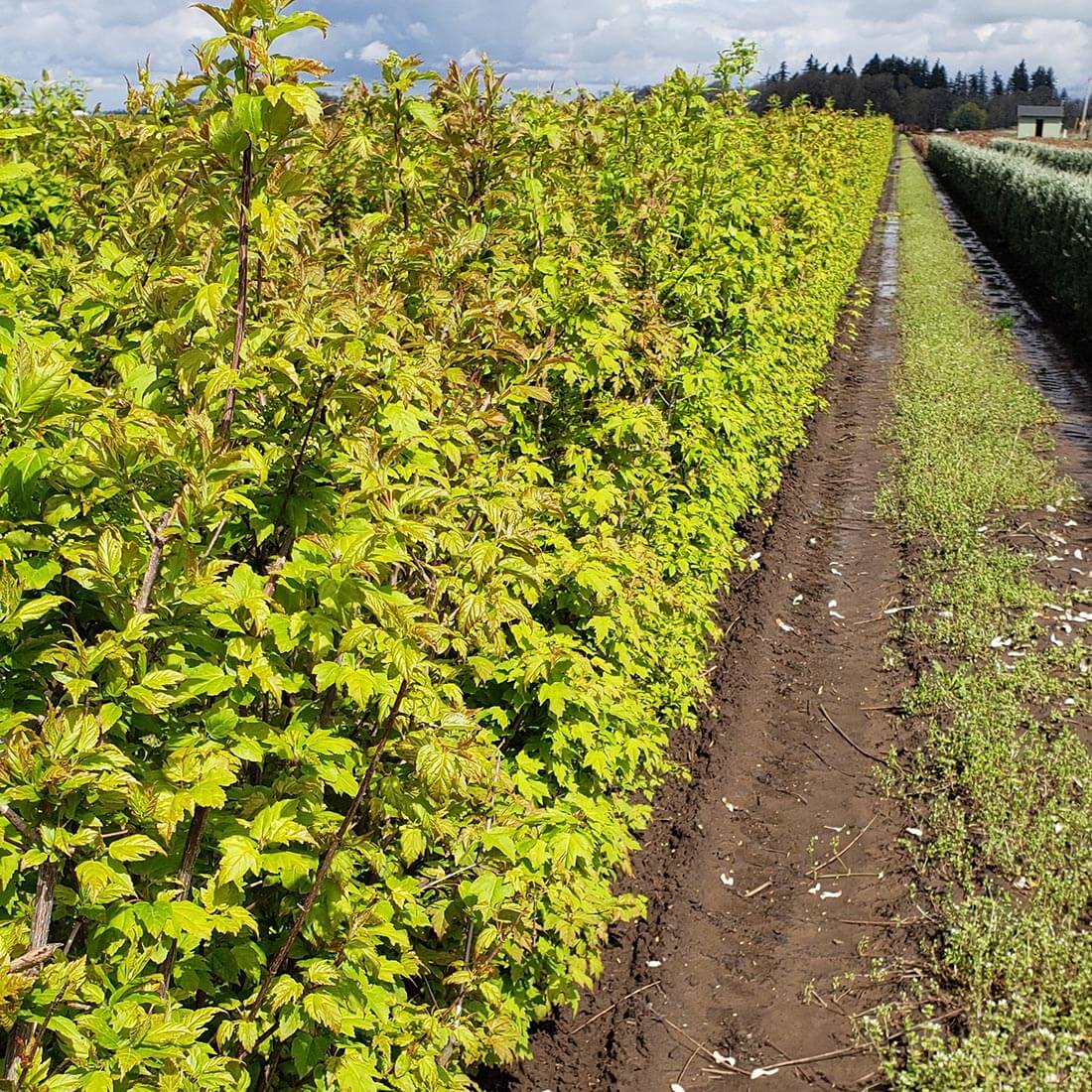 Flame Amur Maple hedges leafing out in spring
American Arborvitae (Thuja occidentalis) is an extremely cold-hardy North American native. It grows fast, quickly becoming a tall, wide hedge. It is not deer-resistant, so if you have a deer problem, you'll want to find a different option. American Arborvitae is evergreen and grows well in full sun. It is easy to maintain as a thick, dense, tall, privacy hedge. It is great for blocking noise and wind as well.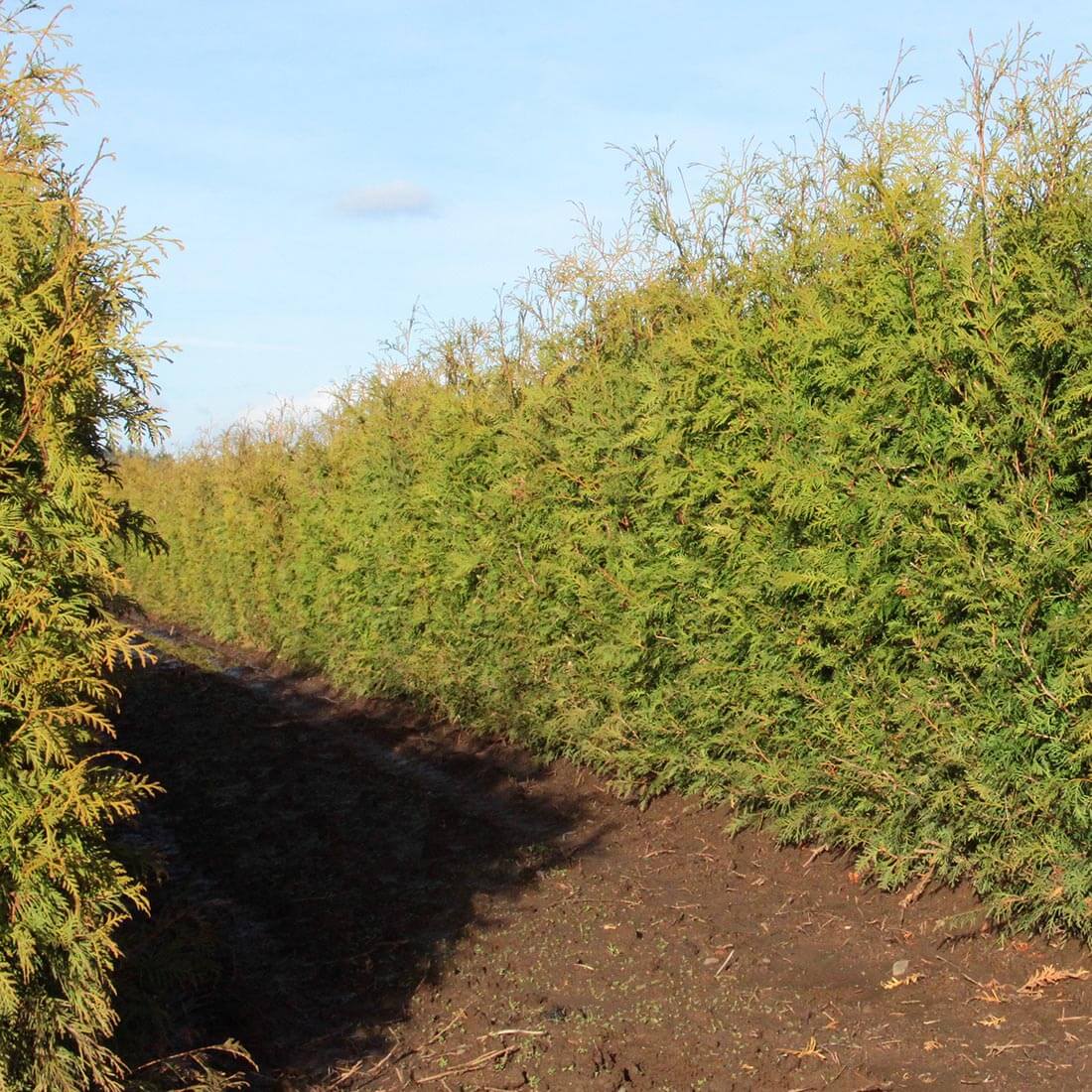 American Arborvitae hedge in winter
Emerald Green Arborvitae (Thuja occidentalis 'Smaragd') is a variety of American Arborvitae that is prized for both its tall, narrow habit and its foliage that stays bright green year-round, with no winter bronzing. It is an extremely popular hedge. One big benefit to using Emerald Green as a hedge is it is very low-maintenance due to its slow and upright growth. Pruning can easily be limited to a light trim once every few years. Its narrow habit also is wonderful in small spaces where a small footprint is desired. It is not deer-resistant, but it has no serious pest or disease issues otherwise.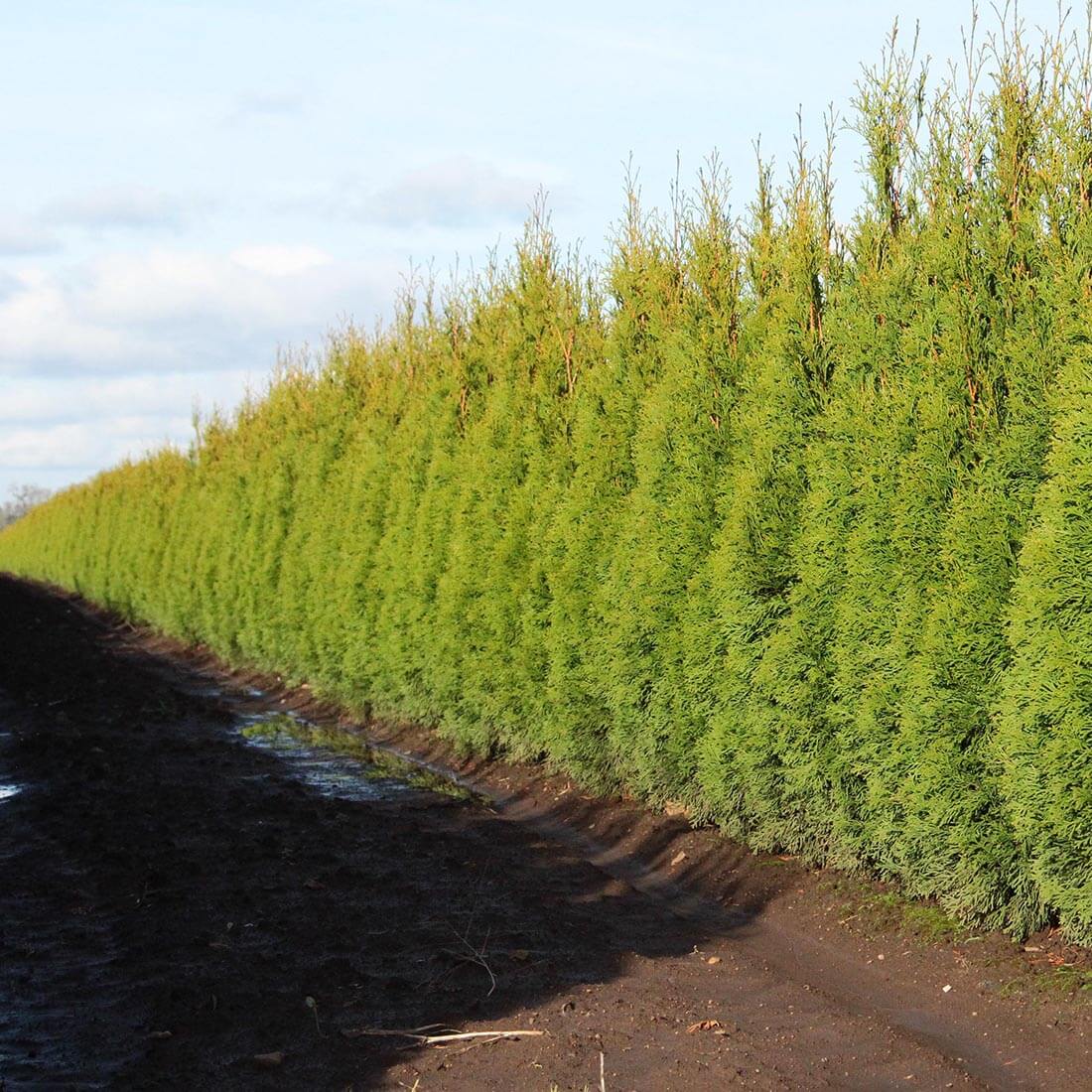 Emerald Green Arborvitae hedge in winter
Hardy to USDA Zone 2 (winter temperatures down to -50°F)
Arrowwood Viburnum (Viburnum dentatum) is another North American native with extreme cold-hardiness. It has a profusion of white flowers in late spring that are attractive to bees and butterflies. Later in the summer, blue-black fruits appear that birds love. It has no serious disease issues and is deer-resistant. Arrowwood Viburnum makes a wonderful deciduous hedge that adds seasonal interest and is great for all kinds of wildlife.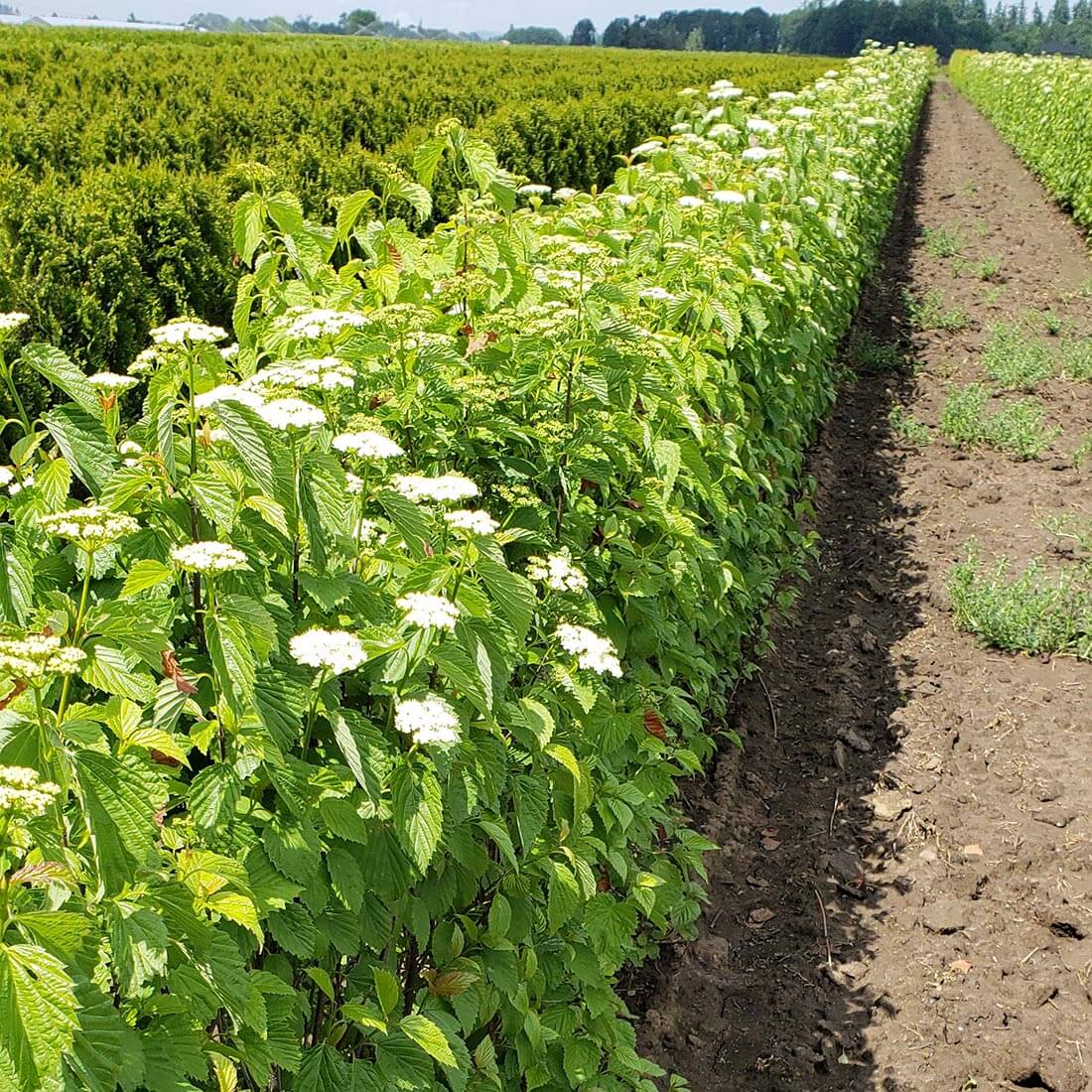 Arrowwood Viburnum hedge flowering in late May