An American Arborvitae scientifically known as Thuja occidentalis hedge stays dark green year round and holds its feathery needles throughout the winter. The distinctive narrow conical shape and dense foliage makes for a sturdy and visually appealing hedge.
An arborvitae (Thuja) hedge planted in biodegradable cardboard container, ready to be planted in a landscape.
Neatly-maintained rows of arborvitae (Thuja) hedge ready to be harvested and shipped for landscape jobs.
Dense yet feathery foliage on this arborvitae (Thuja) hedge allows for excellent privacy in all seasons.
This row of arborvitae (Thuja) hedge is on its way to 6' high before it will be harvested.
Small starts of arborvitae (Thuja) are staged in a greenhouse ready to be planted in the field to form InstantHedges.
Quick Guide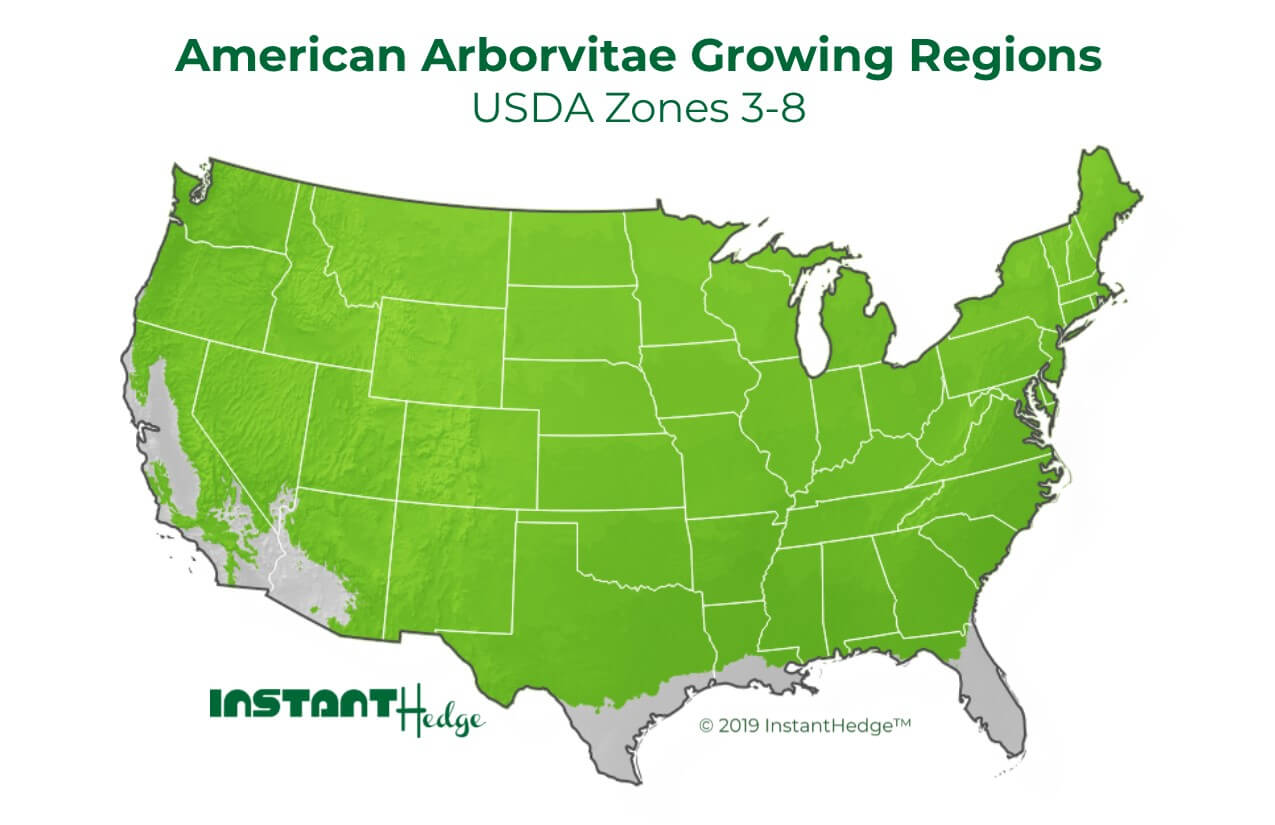 American arborvitae is tolerant to different soil types and resilient in urban setting
The common name of arborvitae, or "tree of life", comes from the early settlers in North America who learned from Native Americans that the tree's foliage, sap, bark and twigs had medicinal properties.
The American arborvitae hedge is native to eastern regions of Canada and the United States, but has been a popular tree for ornamental uses in many regions around the world. The tree was introduced to European growers in the early 16th century.
American Arborvitae Details
There are a number of immediate benefits to choosing the Thuja occidentalis for your next hedge:
Makes an excellent privacy screen when planted in a tight row
Works well with a regular pruning schedule
Requires little overall maintenance
The American Arborvitae hedge needs adequate water to stay healthy and may need more than a moderate watering schedule if planted in extreme heat. For winter landscapes, American Arborvitae's dark green foliage can make a nice accent in an otherwise colorless yard and works as a great accompaniment to flowering plants during the rest of the year. For a more compact version of this plant, check out the Emerald green arborvitae hedge. We carry several other types of arborvitae hedges as well, and they are some of our most popular hedge types. You can also check out other different kinds of hedging plants here. Green Giant Arborvitae is an excellent choice for a similar but faster growing hedge.
| | |
| --- | --- |
| USDA Hardiness Zones: | 3 - 8 |
| Your Hardiness Zone: | |
| Sun/Shade: | Partial Shade to Full Sun |
| Deer Resistance: | No |
| Watering Requirements: | Moderate |
| Growth Rate: | Moderate |
| Mature Size: | 20' to 40' |
| Drought Tolerance: | Moderate |
| West Coast - Sunset Heat Zones: | 1 - 9, 15 - 17 and 21 - 24; H1, H2 |
| Pest/Disease Issues: | No major pest or disease issues. Leaf miner and spider mites, root rot and phytophthora are all possibilities. |
Landscape Gallery
A lush evergreen arborvitae (Thuja) hedge keeps down road noise from the private lawn on the other side.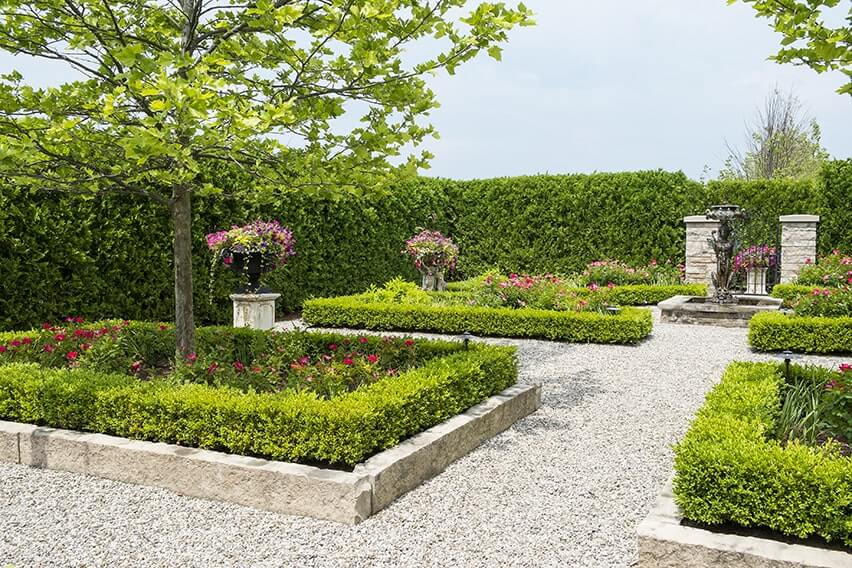 This formal courtyard looks tidy with a perfectly uniform boxwood (Buxus) InstantHedge border and coniferous arborvitae (Thuja) privacy hedge.
An outdoor seating area like this is made much more private with the evergreen arborvitae (Thuja) hedge in the background.
Arborvitae hedges can be grown very tall like this privacy hedge, and some small varieties can be used as knot garden borders.
Create a calm, private garden area by surrounding with a solid Arborvitae hedge.
Arborvitae (Thuja) forms an elegant boundary between this garden and the landscape on the other side.