Check Availability
With rich evergreen foliage throughout the year and dense branches, English laurel or Prunus Laurocerasus is a popular hedge for those wanting a lush evergreen privacy screen. As it is a fast-growing shrub, English Laurel hedge makes an excellent choice for a taller privacy hedge or border.
QUICK GUIDE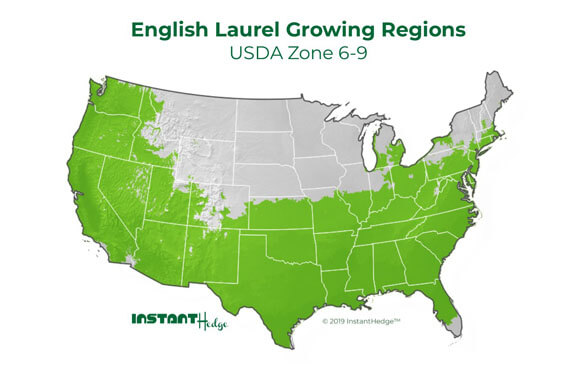 There are a number of immediate benefits to choosing the English laurel for your next hedge:
Lush evergreen through all seasons
Quite drought tolerant and requires little or no irrigation
Great for privacy and security with sharp thorns
Tolerates salt spray, which makes it great for coastal climates
With a very tall maximum height, it is ideal for a higher hedge or screen
PRUNUS LAUROCERASUS DETAILS
The English laurel is well-suited to sunnier climates and is more drought-resistant than other shrub varieties, which makes it a popular hedging plant choice throughout the U.S.
An unpruned English laurel can reach up to 40 feet in height, but keeping it around 10 to 12 feet tall makes it a perfect backyard privacy screen.
The tiny clusters of cream-colored flowers that arrive in the spring are pleasantly fragrant and the namesake cherry-like fruit is devoured by birds in late summer.
The English laurel thrives with more direct sun in cooler climates, while it prefers some shade in more extreme heat zones.
The shrub's large, glossy evergreen leaves are beautiful and recover easily from shearing, which makes the plant great for regular pruning.
Prunus laurocerasus is native to parts of Europe and Asia Minor, and the shrub has been a popular cultivated plant since at least 1576 and has been used in the United States since the colonial era.
As it is more salt-resistant than many other hedges, Prunus laurocerasus is popular in warmer coastal regions.
The naturally oval-shaped habit can be pruned into unique shapes, should that be desired. Other similar laurel hedge types are Schip laurel and Portuguese laurel. Also, check out more hedge types with both deciduous and evergreen options.
USDA Hardiness Zones:

6 - 9

Your Hardiness Zone:

Your auto-detected zip code:

Detecting...

And your zone is:

Detecting...

Sun/Shade:

Partial to Full Sun

Deer Resistance:

Yes

Watering Requirements:

Weekly, or possibly more often in extreme heat

Growth Rate:

Fast

Mature Size:

12' height and 8' width for average landscape use

Drought Tolerance:

High

West Coast - Sunset Heat Zones:

4 - 9 and 14 - 24

Pest/Disease Issues:

Long-term health generally unaffected by pests. Mites, borers and caterpillars are attracted to the laurel. Moderately susceptible to shot-hole, powdery mildew and root rot.
Buy your Hedge
Every kind of Hedge imaginable, delivered.
Want to go big and Instant? Or would you rather start small? InstantHedge® now offers ways to buy hedges in all sizes and quantities.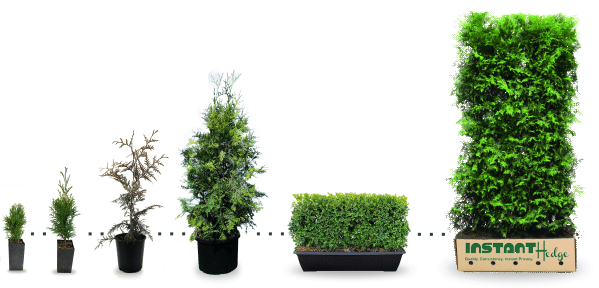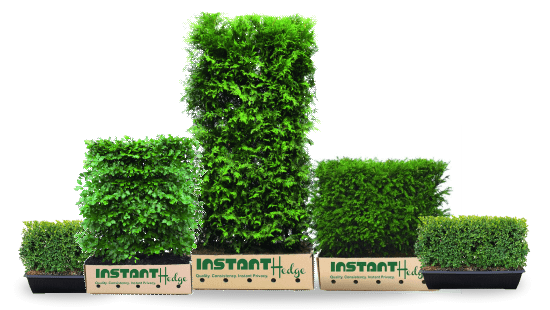 *Wholesale pricing is strictly extended to members of the green industry - including but not limited to: Landscape Companies, Garden Centers, Landscape Suppliers, and Landscape Architects.
We reserve the right to review all customer applications and eligibility for wholesale pricing.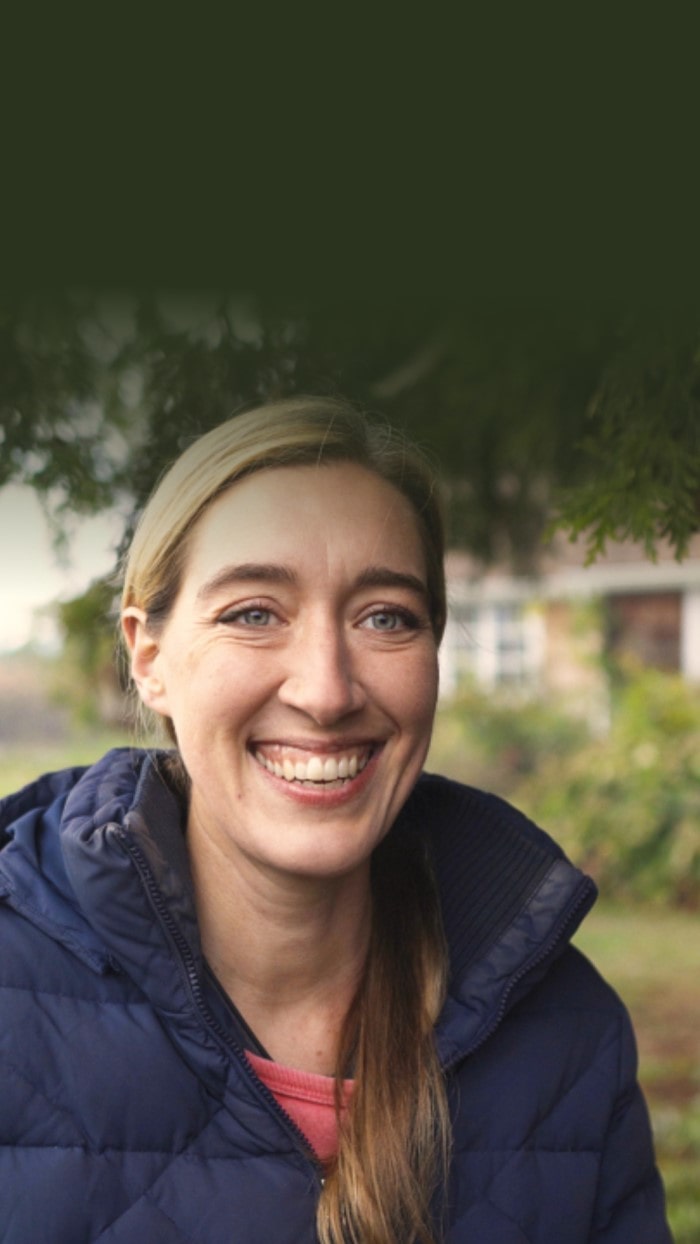 Customer Testimonial
Learn what sets us apart from the rest