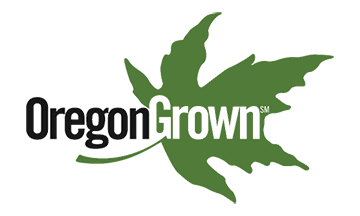 How to Order InstantHedge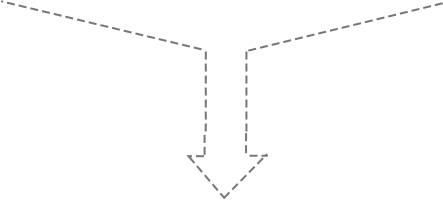 How to Install InstantHedge
HEDGE news
Our latest projects and publications
Learn about selecting, planting, and maintaining hedges.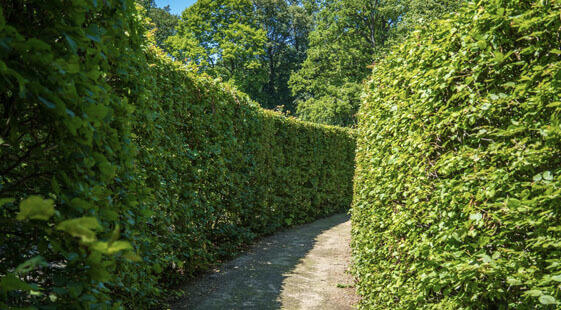 Care Guide
How to Water Hedges Using a Drip Irrigation System Most of our hedges are highly drought-tolerant, but they do require regular water for the first few seasons while roots are becoming established.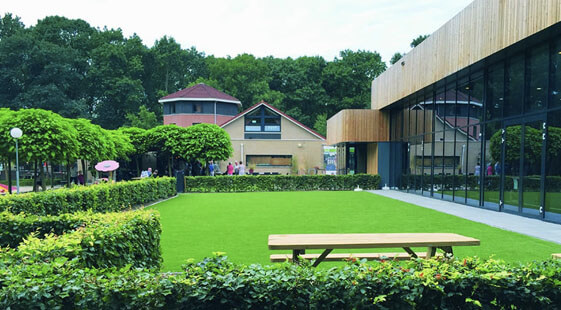 Instant Design
Peace. Quiet. Solitude. Privacy. All these qualities can be enjoyed in any yard, no matter how noisy or urban the area, as long as it has a privacy hedge! Evergreen privacy hedges block noise and peering eyes while providing
What We Offer
Learn about what makes InstantHedge so special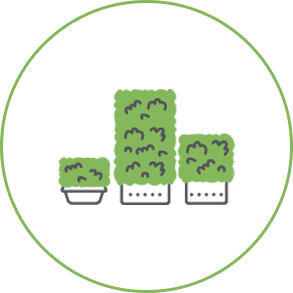 3 Hedge Sizes
Our hedges are sold in 3 convenient sizes to fit the needs of any landscape project; 5-6' tall Garden hedges provide instant privacy and screening, 3-4' tall hedges can be used to create garden rooms and medium-sized borders, and 18" tall boxwood hedges are perfect for knot gardens and low borders. The Garden hedges can easily be maintained at these sizes with regular pruning, or they can be allowed to grow much larger over time. All InstantHedges come in "hedge units". 18" height hedges are 32" long and 10" thick with 5 plants per unit. 3-4' and 5-6' height hedges are 40" long and 16 inches thick with 4 plants per unit.
25+ Hedge Varieties
There is a huge assortment of best hedges in production at our nursery. We have evergreen hedging plants, deciduous hedges, fast-growing hedges, slow-growing hedges, green hedges, blue hedges, purple hedges, flowering hedges, hedges with beautiful fall colors, thorny hedges for security, deer-resistant hedges, bird-friendly hedges, extremely cold-hardy hedges, salt/heat/drought tolerant hedges, hedges for wet areas, and more. Each variety we grow has been carefully chosen, and there are some common garden hedge types that we have elected not to grow due to disease or maintenance issues. It is extremely important to us that our best hedges are successful for you not just immediately after installation but for years to come.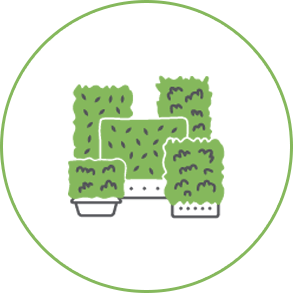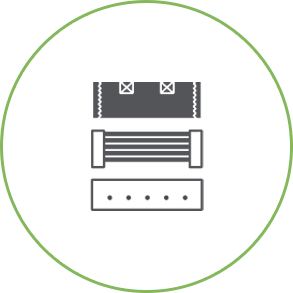 Packaging Options
Our Biodegradable Cardboard Boxes are perfect for projects that will be installed within several weeks after delivery. You can plant the garden hedges in the boxes and the cardboard will degrade within 45 days. The hedge's roots will grow right through them, and you won't have to worry about disposing of hundreds of nursery containers. Our Woven Fabric Bags are a great solution for projects that are being installed in stages. They have 4 handles on each bag and can easily be moved around with two people. Our Cedar Boxes are custom-made. They are durable, beautiful, and customizable. They are ideal for displaying samples of our best hedges in garden centers or sales yards, and they can also be placed straight onto a patio or balcony. Our 18" hedging plants come in a custom plastic container that makes a wonderful display and is easy to move around.
Year-Round Shipping
The InstantHedge process involves extensive root-pruning of all our field-grown best hedges. Each crop is root-pruned five times before harvesting, resulting in a dense, healthy root mass near the base of the hedge. This also means that when the hedges are harvested, no large roots are being cut. This minimizes the stress on the garden hedges at harvest, which means little to no transplant shock. It also enables us to harvest and ship our garden hedging plants at any time of year.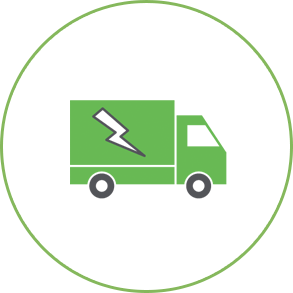 2020 Catalog Out Now!
Download our latest Catalog and get to know our process and varieties.
ASK A QUESTION
Please fill in your details and we will reply shortly.