Cornelian Cherry (Cornus Mas) makes an attractive hedge, screen, or border for a diverse range of outdoor spaces due to its notable showy bright yellow flowers in the spring. Cornus Mas Dogwood grows easily in average well-drained soil and is simple to maintain throughout the year.
An InstantHedge unit of Cornelian cherry (Cornus mas) ready to ship at a 5-6' height.
With adequate pruning, a dense hedge can be achieved with this relative of the dogwood.
Red fruits on Cornelian cherry (Cornus mas) make this hedge different from the rest.
Cherry-like fruits dangle from the branches, giving the Cornelian cherry its name.
First thing in spring, clusters of tiny golden-yellow flowers adorn the branches of the Cornelian cherry (Cornus mas).
First thing in spring, clusters of tiny golden-yellow flowers adorn the branches of the Cornelian cherry (Cornus mas).
CORNELIAN CHERRY DOGWOOD QUICK GUIDE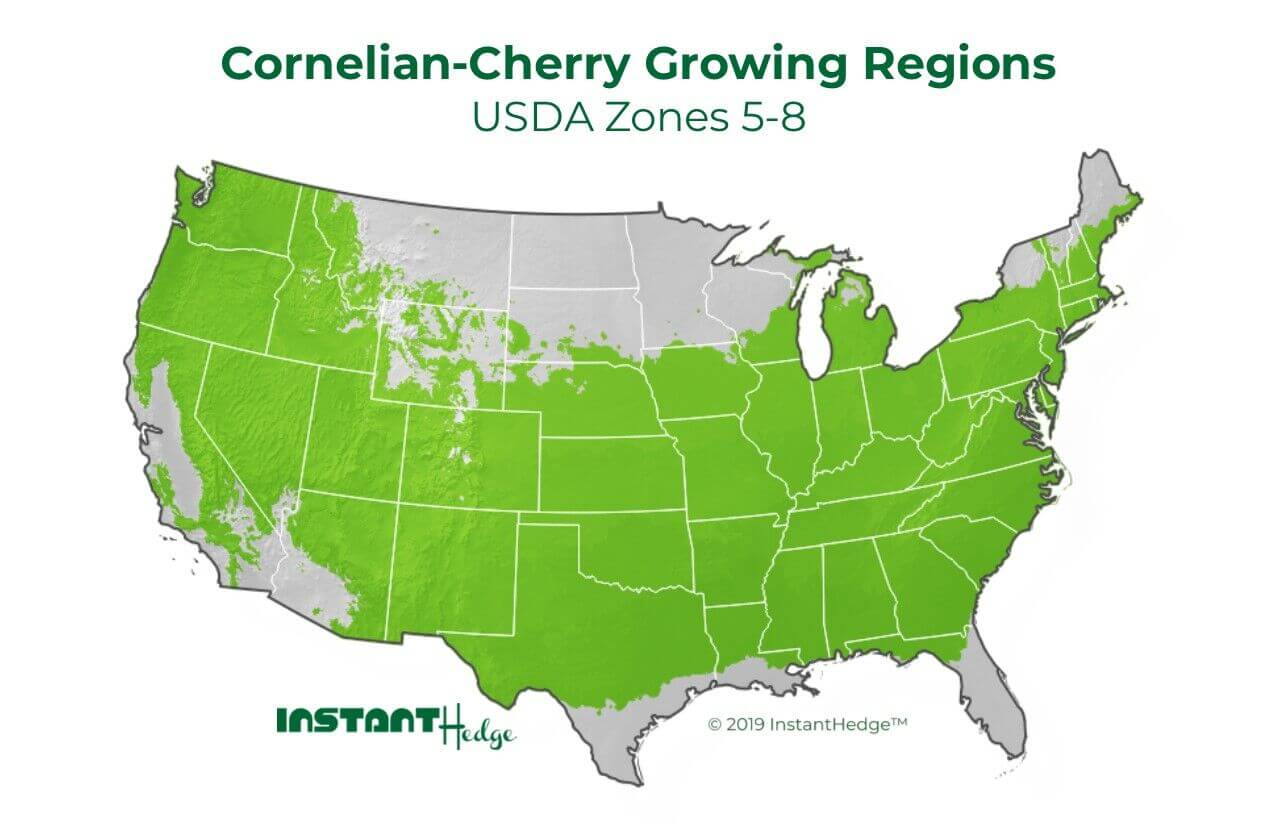 Cornelian Cherry develops fleshy dark-red fruits in mid-summer. The fruit are edible, but fairly sour fresh off the tree. However, cornelian cherry fruit can be used for making tasty syrups and preserves. Birds love the fruit as well!
Lush, green foliage in summer that turns yellow in fall and drops during winter
Bright gold flowers on cornus mas cover the branches in late winter, making a glowing effect in the landscape.
CORNELIAN CHERRY DETAILS
There are a number of immediate benefits to choosing a cornus mas dogwood:
Dense tree that can be easily shaped into desired hedge shape
Stunning yellow blossoms in the spring
Resistant to pests and diseases
Produces edible fruit in the summer
Cornelian cherry (Cornus Mas) can be grown as a low-branching, multi-stemmed shrub or small garden tree. Cornus mas is resistant to many different potential pests and diseases. Native to Europe and into western Asia, the Cornelian Cherry Dogwood Tree can grow up to 25 feet tall with a 20-foot spread. It can easily be maintained as a hedge anywhere from 4-12′ tall. The mature tree's trunk has a distinctive scaly and exfoliating bark.
USDA Hardiness Zones:

5 - 8

Your Hardiness Zone:

Sun/Shade:

Partial Shade to Full Sun

Deer Resistance:

Yes

Watering Requirements:

Moderate

Growth Rate:

Moderate, up to 2' per year

Mature Size:

Up to 12' height and 4' width

Drought Tolerance:

Moderate

West Coast - Sunset Heat Zones:

1 - 6

Pest/Disease Issues:

No major pest or disease issues. Borers, leaf miner, gall midge and scale are all potential insect pests. Potential disease problems include dogwood anthracnose, leaf spot, crown canker, root rot, powdery mildew and leaf and twig blight.
Landscape Gallery
A public garden can be made more private with a hedge border like this Cornelian cherry (Cornus mas).
This water feature is elegantly framed by Cornelian cherry (Cornus mas).
Cornus mas makes a wonderful screen and windbreak in country gardens, also providing fruit to birds.
Cornus mas InstantHedges look finished and full on the day of planting.
Cornus mas is a beloved landscape plant often used for hedges. Plant one in a day.
Plant a beautiful, fruit-bearing hedge in 1 day with a Cornus mas InstantHedge.
Cornus mas berries can be used in cooking - have an ample supply by planting an InstantHedge.
Red fruits on Cornelian cherry (Cornus mas) make this hedge different from the rest.
This Cornelian cherry (Cornus mas) hedge has a soft leafy texture along this frequently-traveled path.
Cornelian cherry (Cornus mas) is an excellent choice for framing this landscape display.
Features of Cornus Mas for Sale–
Cornus Mas is tolerant of a wide range of soil types and PH. It grows well in full sun to partial shade. You can easily maintain a Cornelian Cherry Dogwood Hedge anywhere from 4-12′ tall and 2-4′ wide.
Growth Habit-
Cornelian Cherry is a slow-growing deciduous hedge that can reach up to 12' height and 12' width without pruning. It has a very dense habit and naturally develops into a rounded oval shape.
Flowers-
Tight bunches of bright yellow flowers cover the branches in late winter. The hedge also bears bright red cherry-like fruit in summer. The cornelian cherry fruit is eaten by birds and is also delicious when prepared as jams and jellies.
Landscape Use-
Cornelian cherry works well in small groupings, hedges and landscape borders. The hedge offers multi-seasonal interest in gardens.
Care & Maintenance-
Since Cornus mas or cornelian cherry is a slow-growing hedge, it requires less pruning than some hedges. To avoid crossing, damaged, or badly formed branches, it is important to prune the hedges once in a year. The best time to prune Cornelian cherry hedges is in early spring. As the tree gets older, it is good to prune once every two or three years to maintain its form and shape.
Why Choose InstantHedge For Cornelian Cherry?
Cornelian cherry hedge grows slowly but creates a wonderful privacy hedge. Usually, people start with small Cornus mas whips, but these take about 5 years to turn into anything resembling a hedge. With Cornelian cherry Instanthedge, you can get a perfect hedge right away, anywhere from 3-6′ tall.

Order Request
Please fill in your details and we will reply shortly.