Hicks Yew (Taxus x media 'Hicksii') is a sturdy evergreen shrub which makes an excellent hedge or privacy screen. Yew hedges have always been popular but the Hicks variety has a tall, narrow habit that makes it ideal for hedging. Hicks Yew hedges respond very well to heavy pruning, becoming a more dense and handsome hedge over time. Hicks Yew hedges grow well in both full sun and full shade, and it remains a popular hedge in a variety of climates throughout the U.S.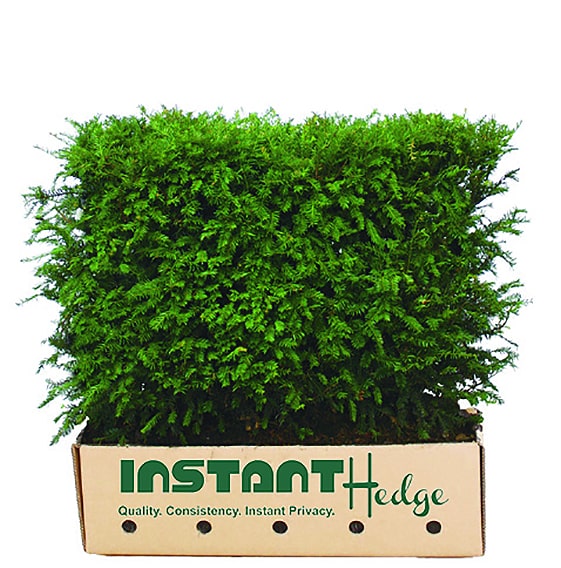 This 3-4' Hicks Yew hedge unit is ready to be planted in its biodegradable cardboard container.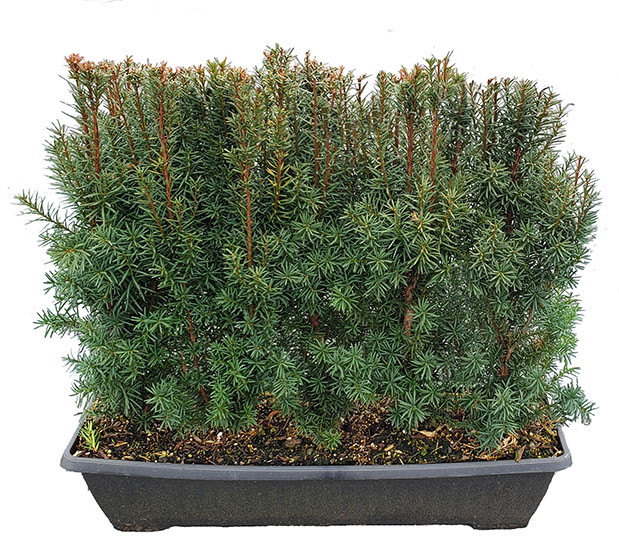 This 3-4' Hicks Yew hedge unit is ready to be planted in its biodegradable cardboard container.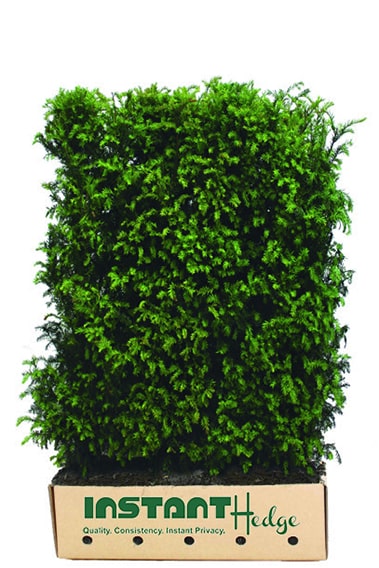 A 4-5' yew (Taxus) InstantHedge in biodegradable cardboard container ready to be planted in the landscape.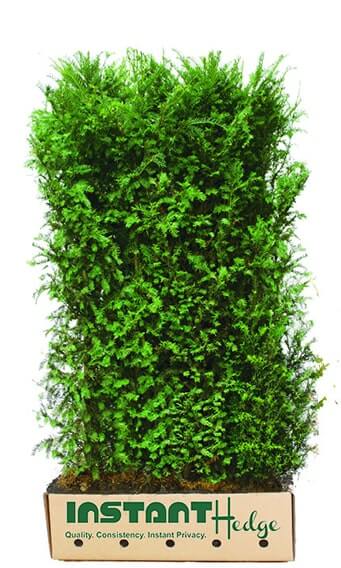 This 5-6' yew (Taxus) hedge has been dug and placed in our biodegradable cardboard container.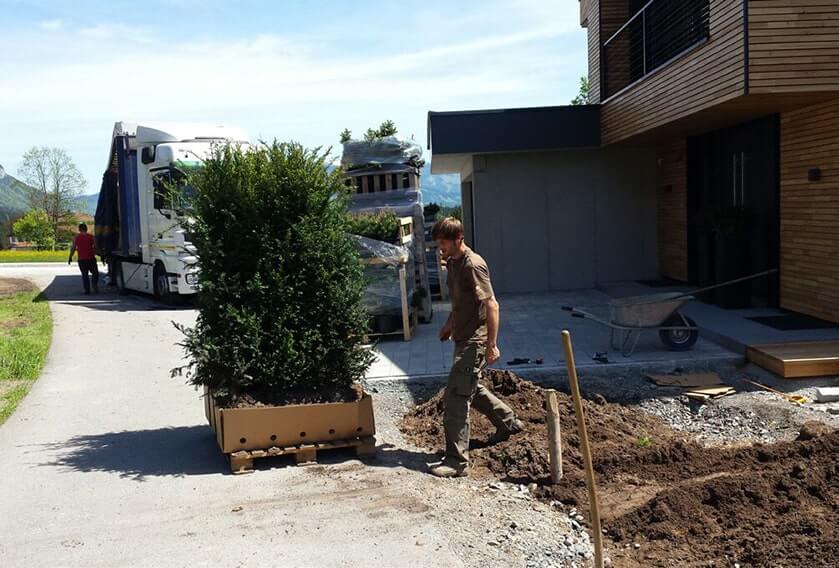 These yew (Taxus) InstantHedge units are conveniently transported via a pallet and ready to be planted in the landscape.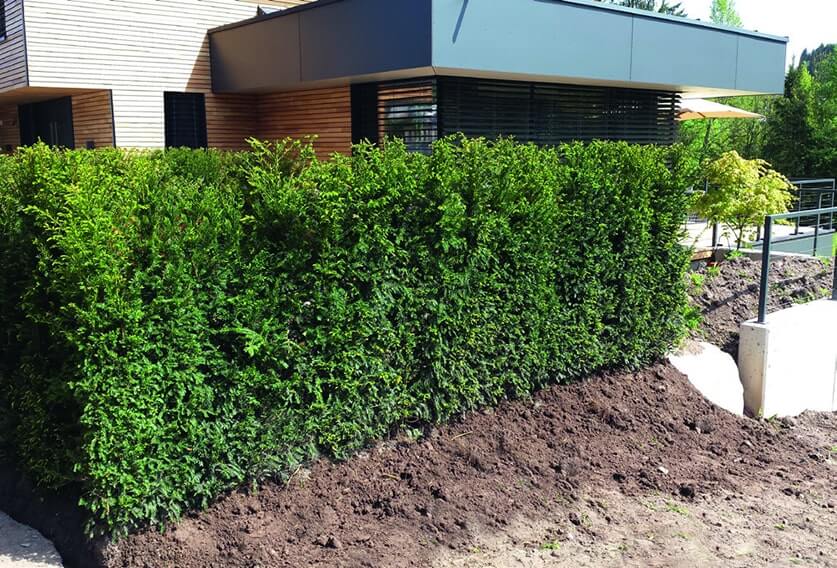 The recently-installed yew (Taxus) hedge shows substantial privacy in just one day!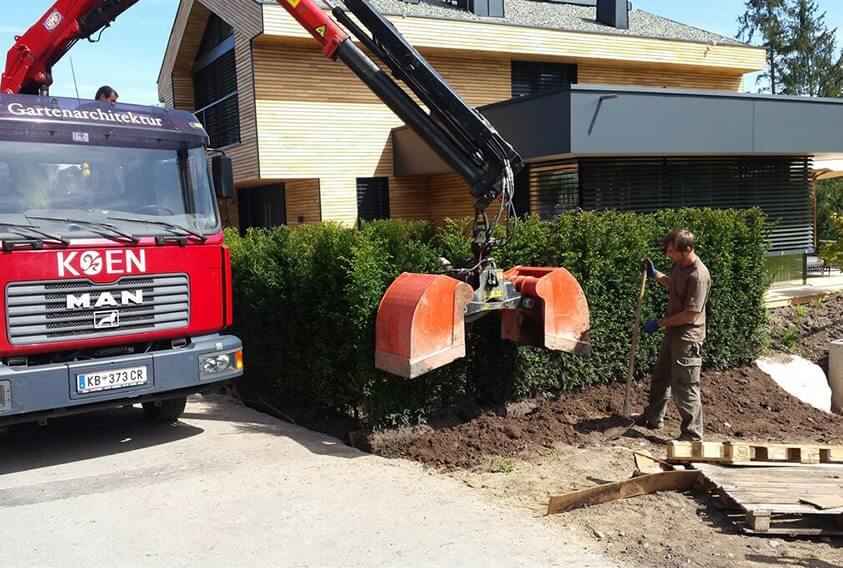 With equipment such as this, planting even long distances of hedge can be very easy.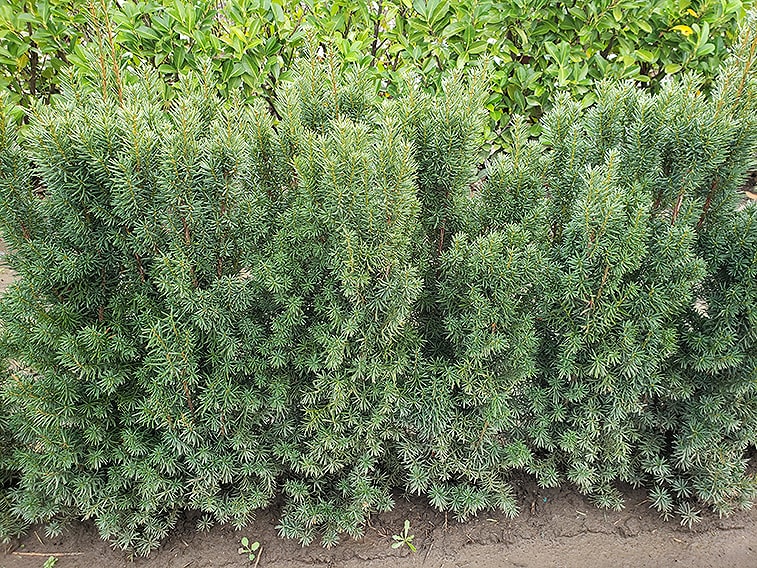 These Hicks Yew hedges are nearly ready to be harvested at 3 feet tall.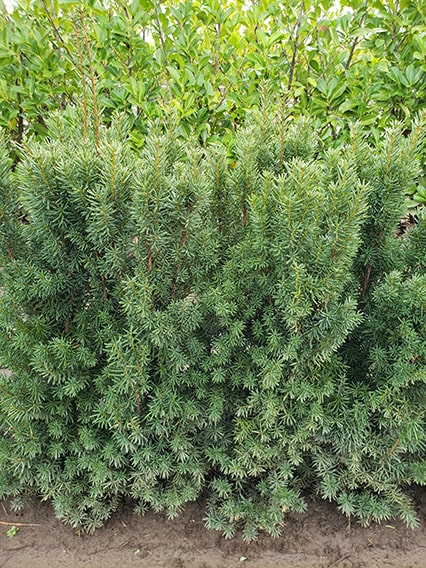 These Hicks Yew hedges are nearly ready to be harvested at 3 feet tall.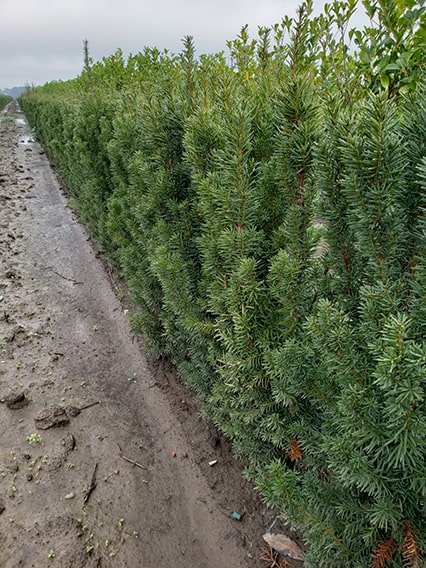 These Hicks Yew hedges are nearly ready to be harvested at 3 feet tall.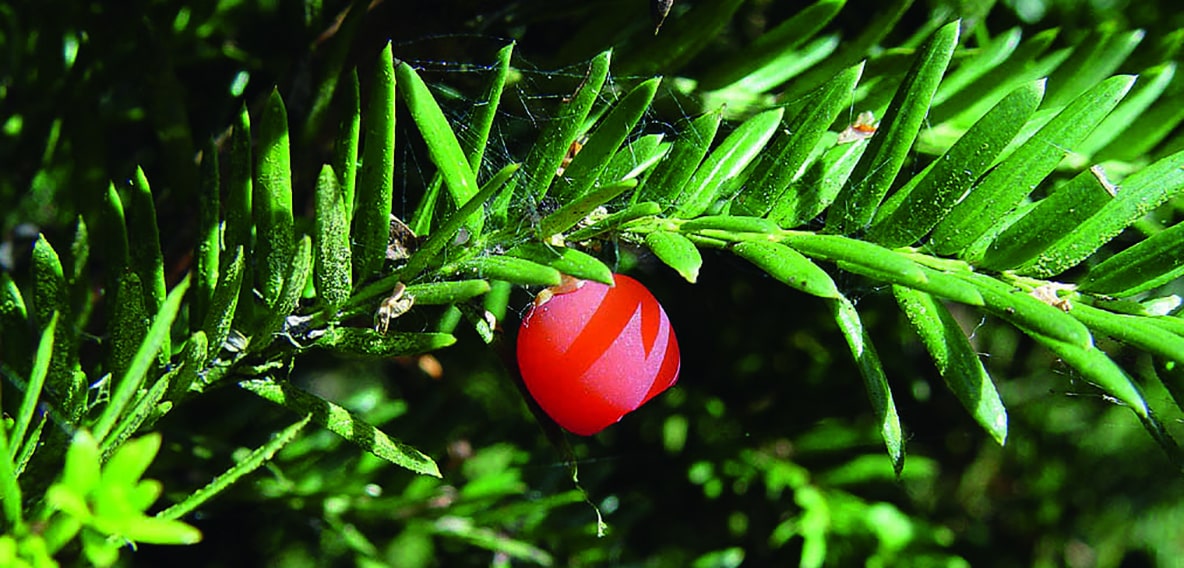 Colorful reddish fruits called arils develop on Hicksii yew (Taxus media 'Hicksii') to look like little ornaments on the branches!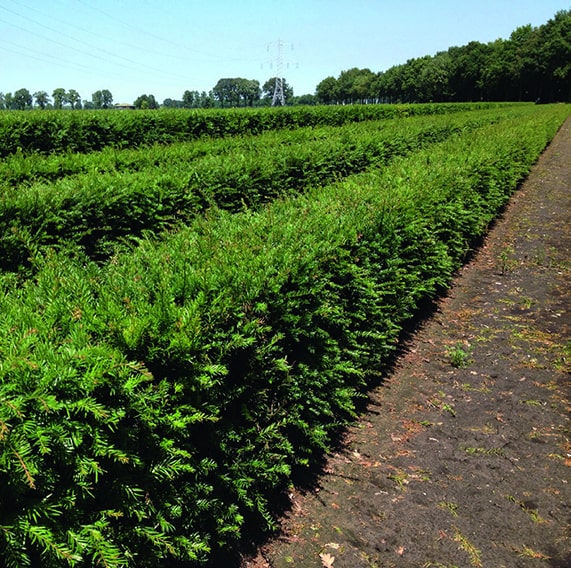 A finished 3-4' hedge of yew (Taxus).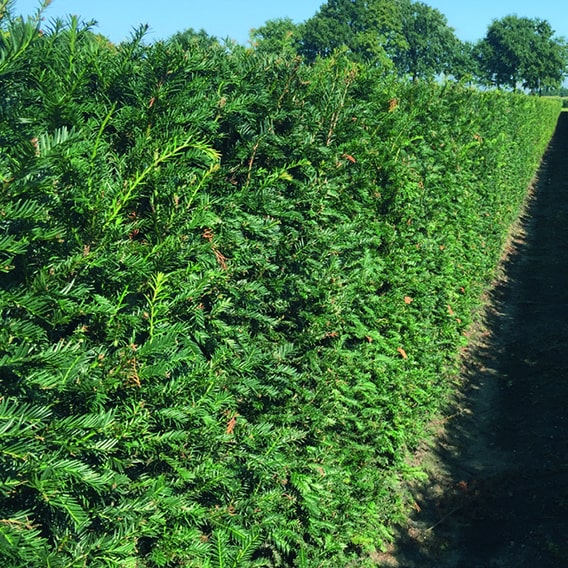 This yew (Taxus) hedge has been grown to 5' high.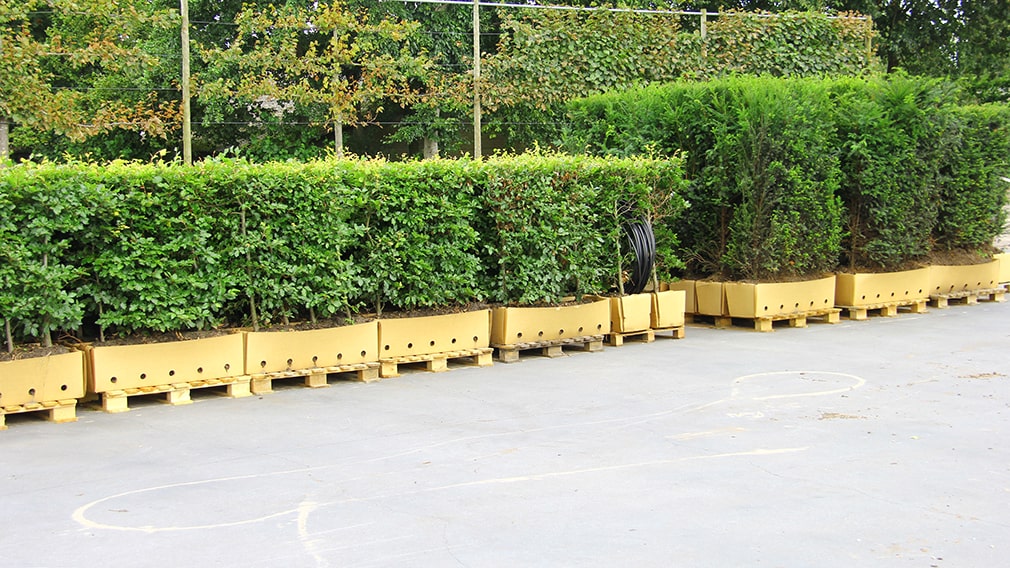 A large order of yew (Taxus) as well as European beech (Fagus sylvatica) is prepared by the loading dock ready for shipment.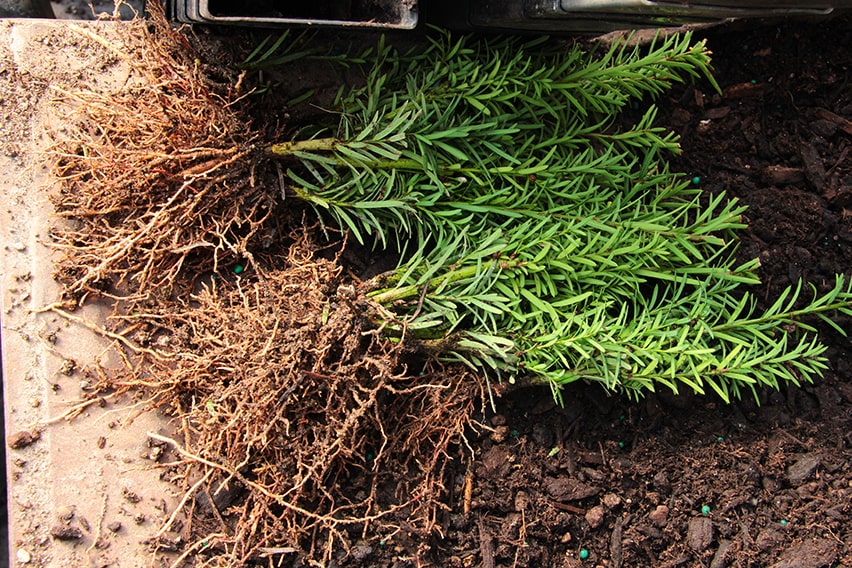 Young, strongly-rooted plants are chosen for planting in the field to create vigorous, consistent InstantHedges.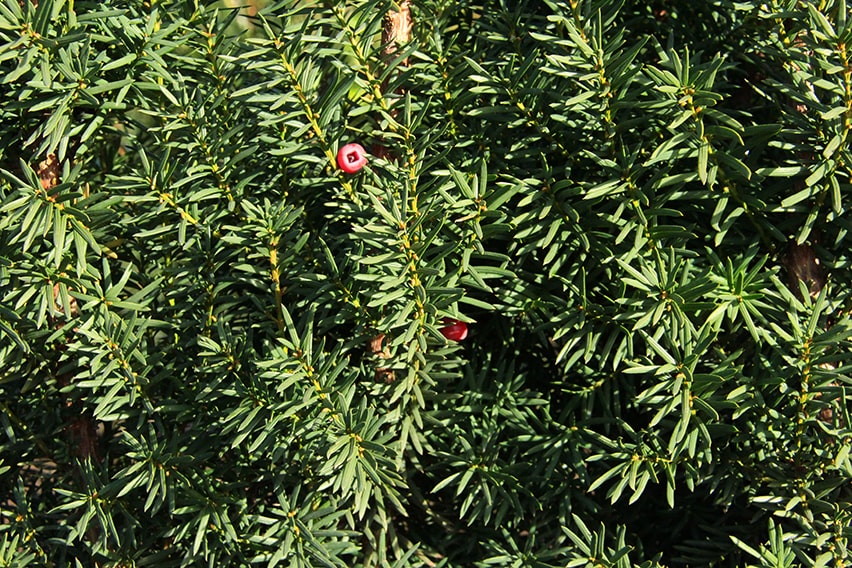 Even in winter, the foliage holds a rich dark green color on yew (Taxus).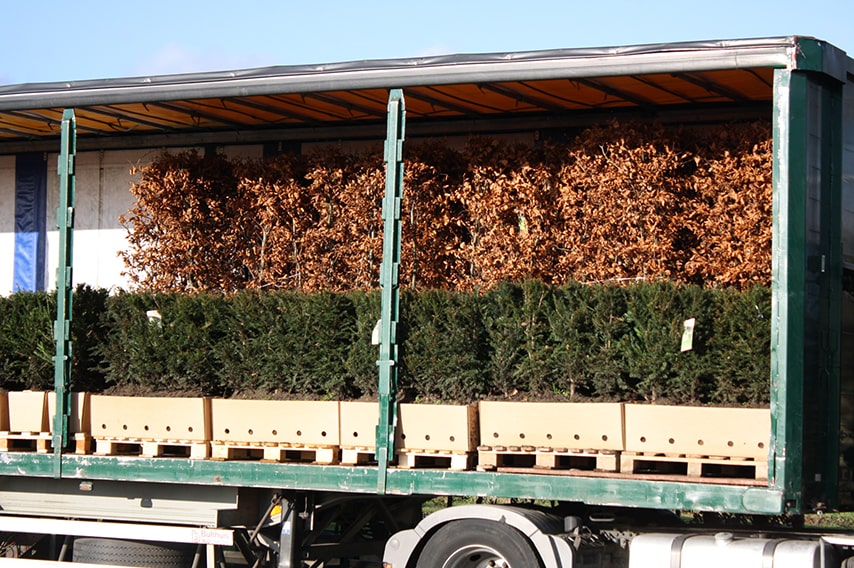 This truck has been loaded with shorter yew (Taxus) hedges and taller European beech (Fagus sylvatica) hedges.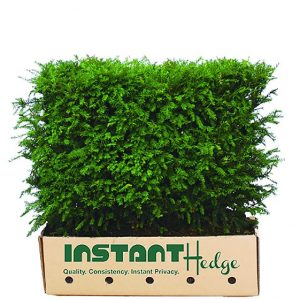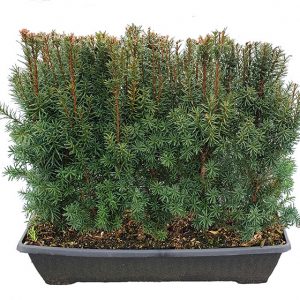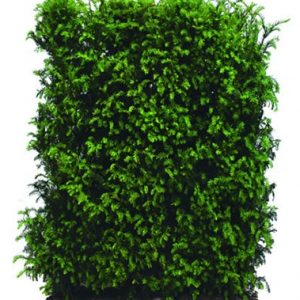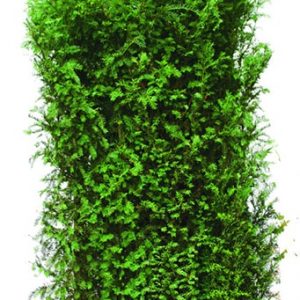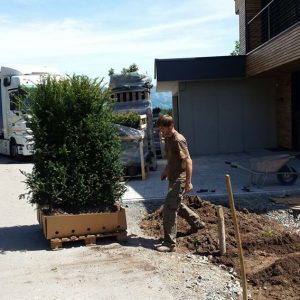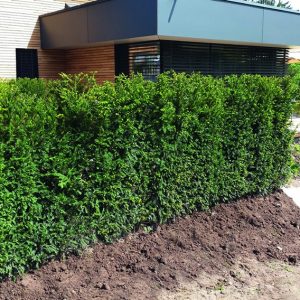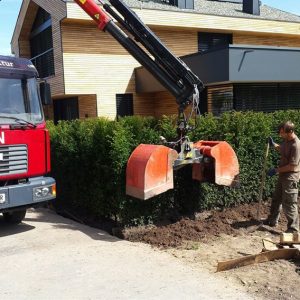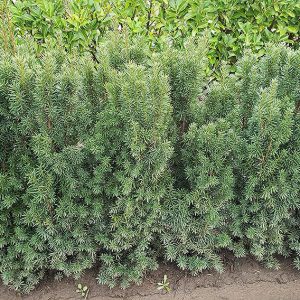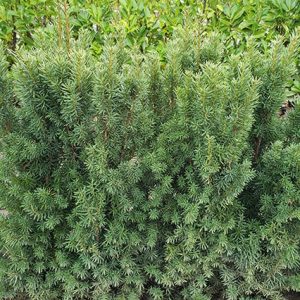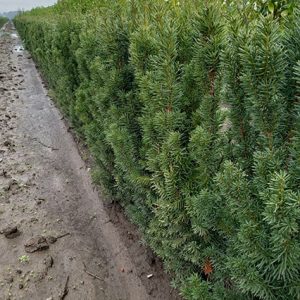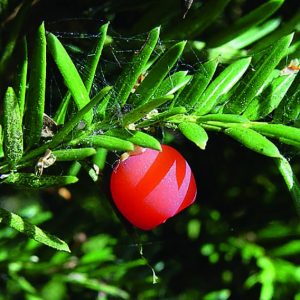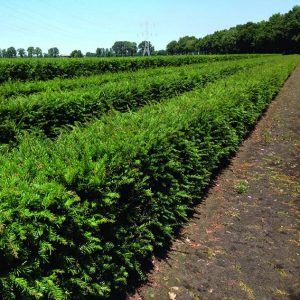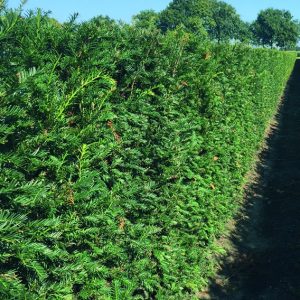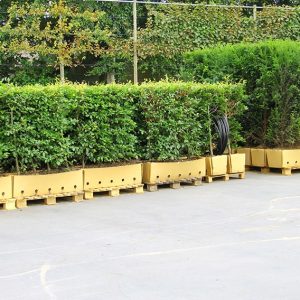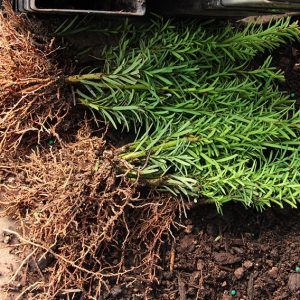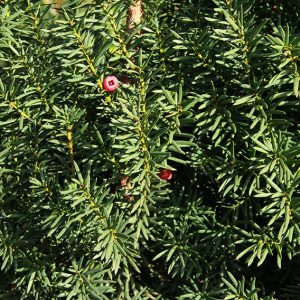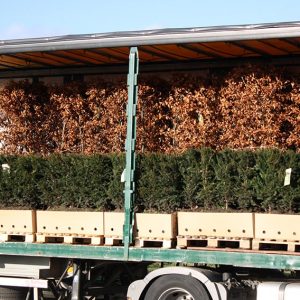 Quick Guide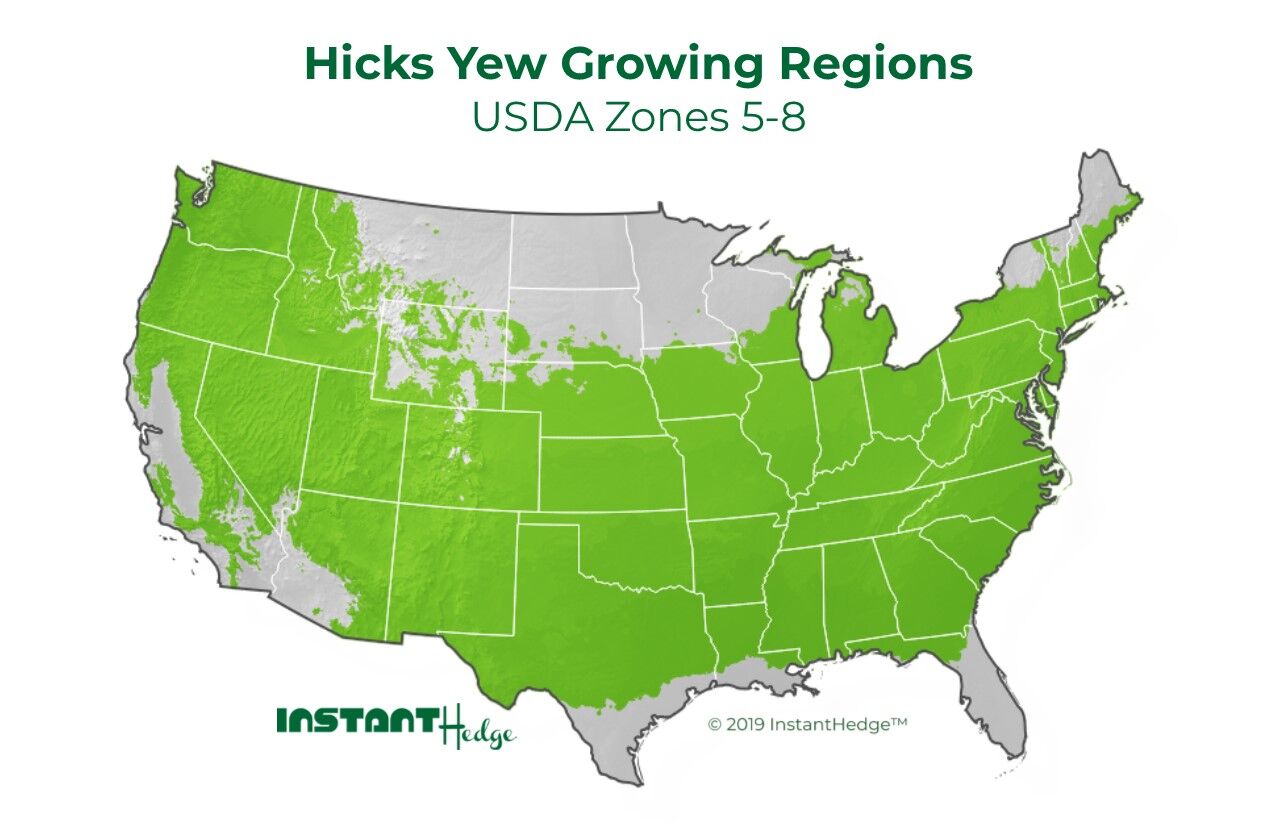 Yew is a popular hedge in the northern regions of the United States, as it grows well in cool and shady climates.
Hicks Yew is evergreen, maintaining a deep olive color throughout the year in many different climates.
With a slow growth rate of less than 1 foot per year, Hicks Yew is an easy hedge to maintain for long periods of time.
As it's resilient to salt and pollution, Taxus x media 'Hicksii' is a fantastic choice for yards in coastal or urban areas.
Hick's Yew Details
Dense, evergreen foliage makes yew hedges fantastic for privacy screening
Grows well in full sun to full shade – the best hedge for shade
Tolerates a wide range of soils
Responds well to regular pruning
With a tall, narrow growth habit, Hicks Yew is a great choice for small spaces needing a narrow hedge
Taxus x Media 'Hicksii' prefers moist, well-draining soils, but it does not grow well in overly wet environments.
In England, the semi-toxic yew hedge was once relegated to growing only churchyards, where cows were unable to graze on the yew shrub. Interestingly, and perhaps unfortunately for gardeners today, deer are both attracted to the yew and can eat its leaves without harm. For nontoxic evergreen privacy hedge options, please take a look at Emerald Green Arborvitae, Green Giant Arborvitae, and Virescens Western Red Cedar.
| | |
| --- | --- |
| USDA Hardiness Zones: | 5 - 8 |
| Your Hardiness Zone: | |
| Sun/Shade: | Full Sun to Full Shade |
| Deer Resistance: | No |
| Watering Requirements: | Weekly, or more often in extreme heat |
| Growth Rate: | Slow |
| Mature Size: | 10' - 12' |
| Drought Tolerance: | Excellent |
| West Coast - Sunset Heat Zones: | 3 - 9 and 14 - 24; A3 |
| Pest/Disease Issues: | No serious problems. Weevils, mealybugs and scale are problems in some areas, as are twig blight and needle blight. |
Landscape Gallery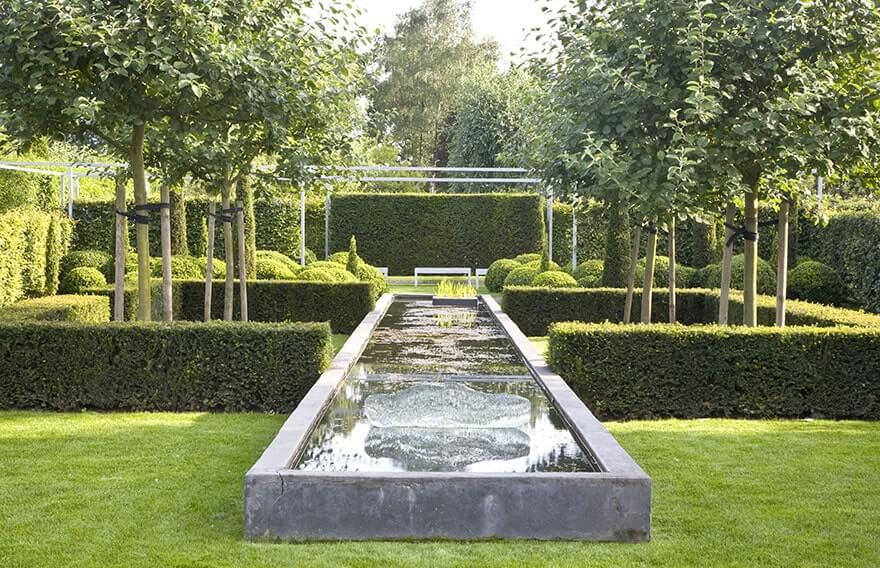 Dense, evergreen, easily-maintained Hicks Yew hedges are the perfect choice for low, artistic borders.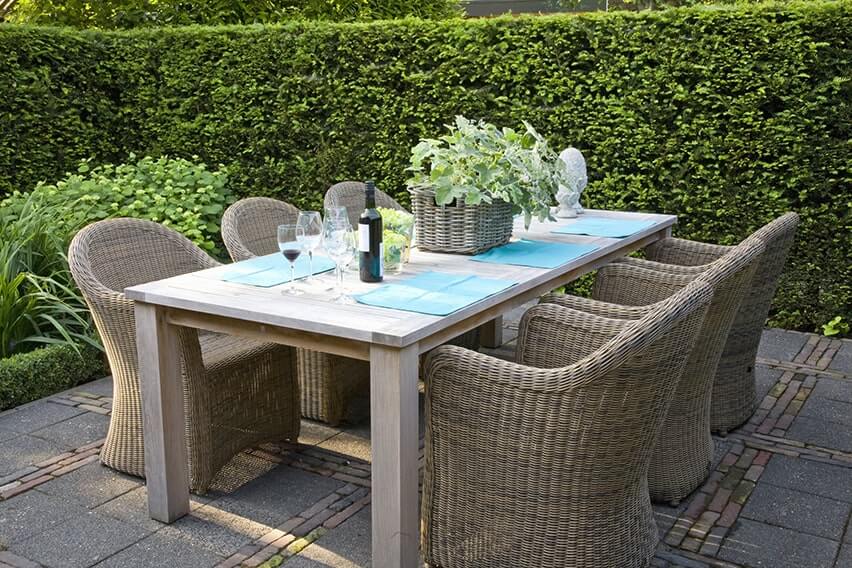 This elegant yew (Taxus) hedge not only provides an effective screen but also creates an elegant backdrop for an outdoor living area.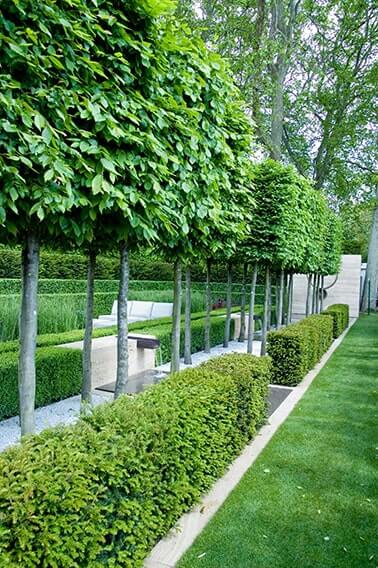 With their dark green color and feathery texture, Hicks Yew hedges make excellent low borders that complement other plants and stone.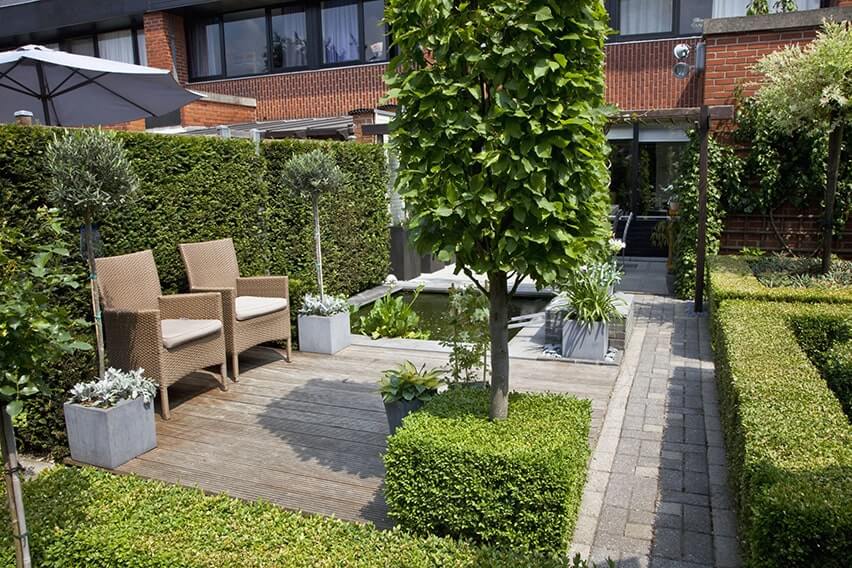 A shared courtyard at this townhouse is bordered elegantly with boxwood (Buxus) as well as yew (Taxus) hedges.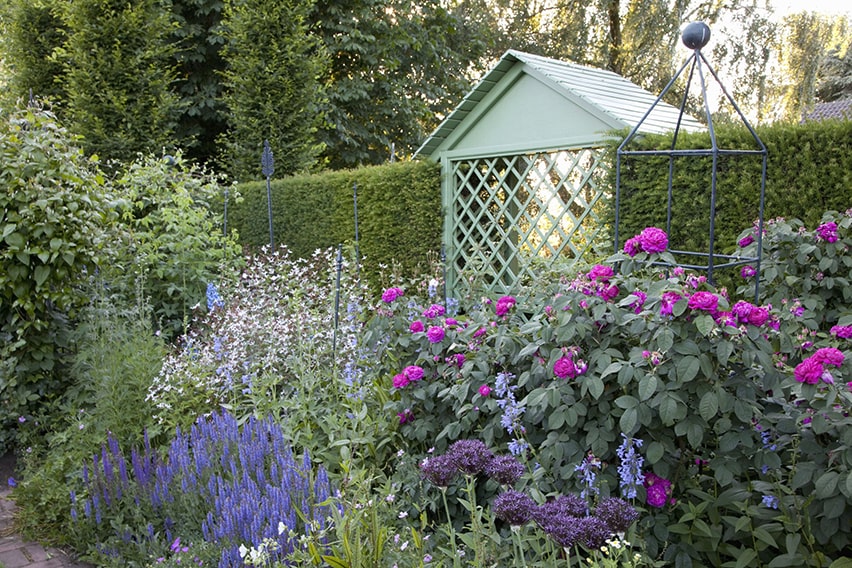 Hedges can be used in combination with gates to make a private area in a favorite part of the garden.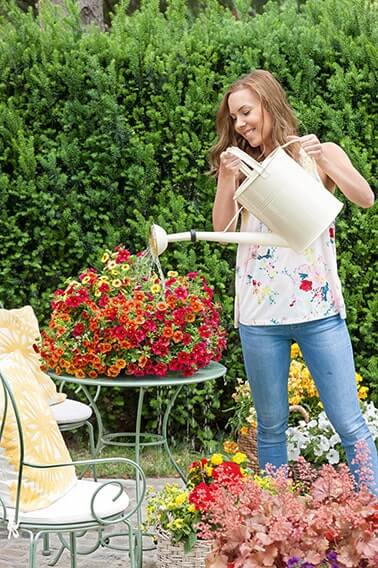 The flowers on this patio have even more stunning color when set against the dark green background of a yew (Taxus) hedge.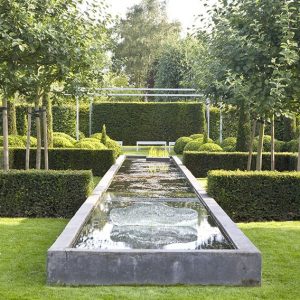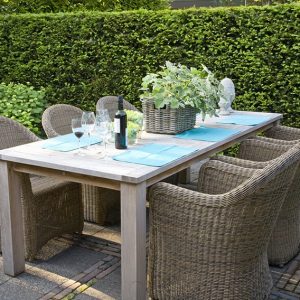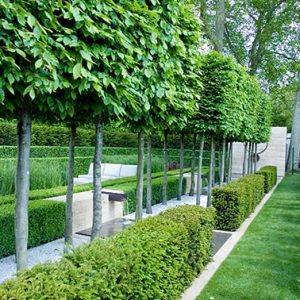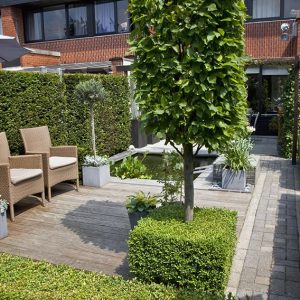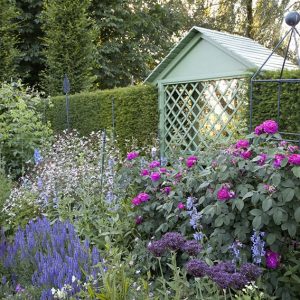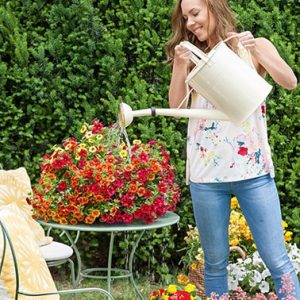 RESIDENTIAL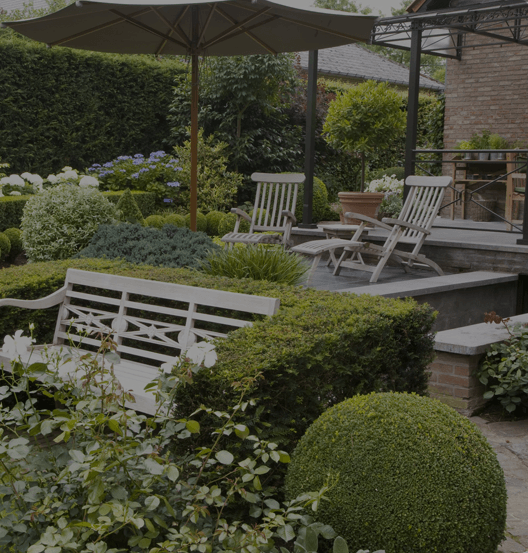 WINTER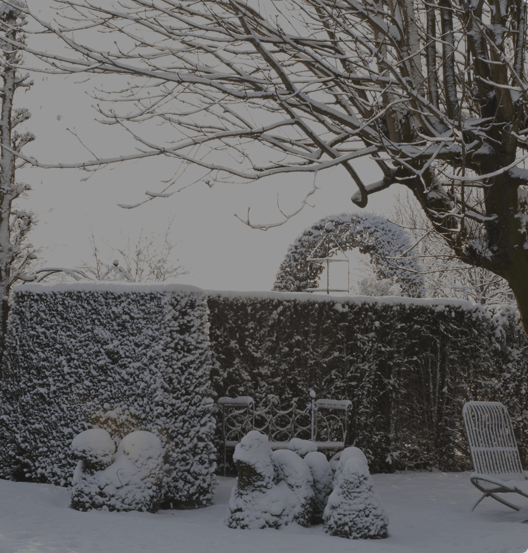 COMMERCIAL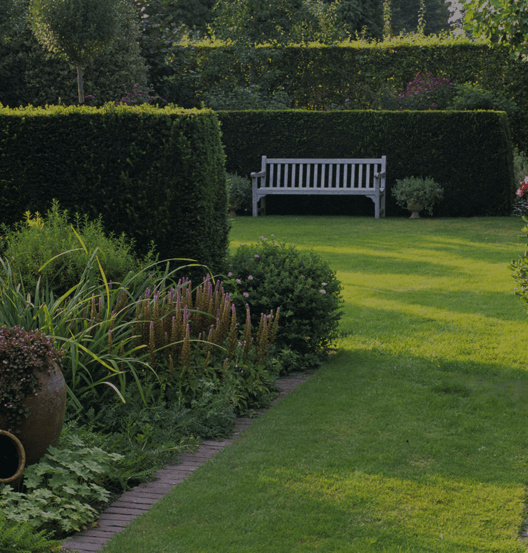 Order Request
Please fill in your details and we will reply shortly.
Why Choose Hicks Yew?
Hicks Yew (Taxus x media 'Hicksii') is a plant that was truly bred for hedging in the United States. With lush evergreen foliage, a form and growth rate perfect for hedging, extreme cold-hardiness, excellence in both full sun and full shade, and low maintenance needs, Hicks Yew is one of the most popular hedging choices on the market.

American-Bred
Bred in New York by Hicks Nurseries, Hicks Yew is a cross between English Yew (Taxus baccata) and Japanese Yew (Taxus cuspidata). The result of this cross is a gorgeous yew tree with lovely physical features of the English Yew and the cold-hardiness of the Japanese Yew.
Foliage and Fruit
Hicks Yew is an evergreen with fresh, bright green growth in spring and fern-like, dark foliage for the rest of the year. It is lush and dense, with the classic yew look that has been favored by gardeners for reportedly thousands of years.
It also bears attractive bright red fruits, called arils. These are toxic to mammals but are loved by birds.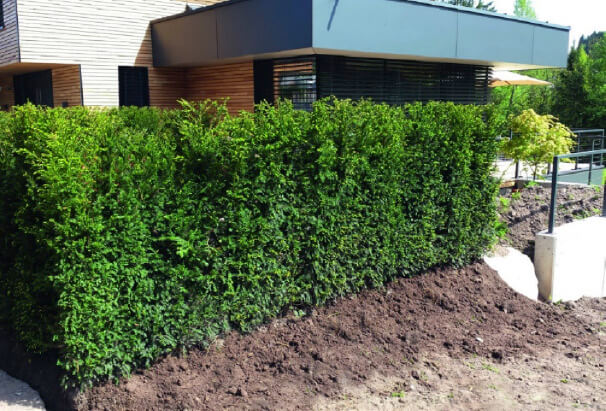 Form
This vigorous hybrid grows in a tall, upright form. Hicks Yew has a moderate growth rate that is easy to control, but also reaches a good size without having to wait very long. It can reach up to about 18 feet tall at maturity, but is often kept as an 8-12 foot hedge. It is easy to keep as a narrow hedge. Hicks Yew is multi-stemmed and primarily grows straight up. It responds very well to pruning and can easily be maintained at any desired size and shape for many years.
Hardiness
One of the top benefits of choosing Hicks Yew for a hedge is its cold-hardiness from the Japanese Yew parentage. It is hardy to USDA Zone 4a and can be easily grown up through Zones 7 or 8. This wide range makes it a great choice for most of the United States.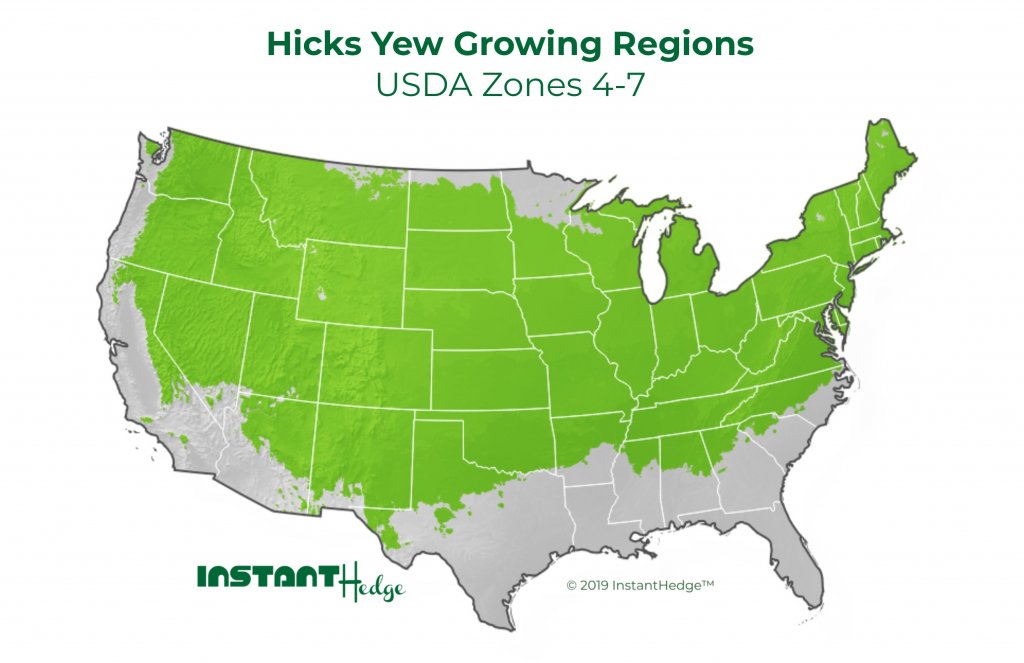 Exposure
Another great thing about Hicks Yew for hedges is its tolerance of all sun exposures, from full sun to full shade. Most other evergreen hedges prefer full sun, and some can tolerate partial shade, but none do as well in deep shade as the Hicks Yew. This flexibility is incredibly useful when designing as exposure doesn't need to be considered. Hicks Yew truly is one of the best hedges for shade.
Longevity
While Hicks Yew is a relatively new variety, Taxus baccata (one of its parents) is known to be an extremely long-lived plant. There are many examples of English Yew hedges in Europe that are hundreds of years old, and the oldest living yew tree is supposedly between 1,500-3,000 years old. Hicks Yew specifically has been known to easily live past 50 years under good growing conditions.

How to Grow Hicks Yew
Hicks Yew is a very low-maintenance plant, which is of course an ideal feature for a hedge plant. The only thing it does not tolerate well is wet soil – everything else it can handle. Easy to plant, easy to irrigate, easy to fertilize, easy to prune…you won't spend much time maintaining this hedge.
Choosing a Site
Hicks Yew hedge thrives in full sun, part shade, and full shade. It is highly tolerant of urban conditions. It is not picky about soil types and can grow well in poor soils. The only thing you will need to consider is soil drainage at the planting site. Taxus of any kind will not thrive in soggy soil. Amending the soil with organic matter, installing drain systems like tiling or directing water flow toward stormwater drains, and raising the planting site are all good ways to improve drainage.
Planting
You can plant a Hicks Yew hedge at any time of year, but the ideal times are fall, winter, and spring. You might try to avoid planting when it is very hot, especially if there is a lot of fresh new growth on the plants. If you do plant at that time, make sure to keep the hedge well-watered. Amending the soil with some organic matter before planting to help provide nutrients and improve soil drainage. Applying a generous layer of mulch over the roots will help protect them as they grow and establish. Yearly mulching will also improve soil drainage and nutrients.

Yew hedges can be planted any time of year. If planting in summer, make sure to provide ample water.
Watering
Once established, Hicks Yew is drought-tolerant. For the first 2-3 years after planting, be sure to add about 1 inch of supplemental water per week in hot, dry periods. Do not overwater – yew hedges do not like wet feet.
Fertilizing
Taxus plants do not have high nutritional needs, but application of a slow-release fertilizer at a low rate will help encourage faster growth.
Pruning
Another wonderful thing about using yew as a hedge is that they are highly adaptable to pruning. The best times to prune are early spring or late fall, and it is only needed once per year. A big difference between yews and other conifer hedges like arborvitae is that if you accidentally let a yew hedge get too big and need to prune hard to get its size under control, it will fill back in and do just fine.
Yew can be pruned either with hand shears or an electric hedge trimmer, as long as the blades are sharp.
Pests
Yew does not have any major pest problems. Deer typically avoid it but may browse especially in winter when other food sources are scarce.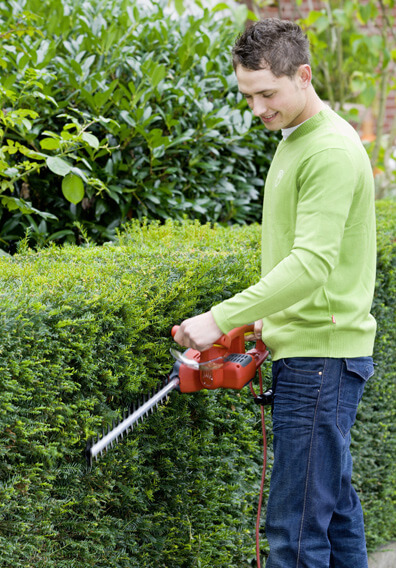 Spring and fall are the best times to prune yew hedges.
Why Choose Hicks Yew InstantHedge?
Hicks Yew grows at a slow to moderate pace, so planting a traditional hedge will mean waiting years for a full, finished privacy screen. Finding large plants to begin with can be expensive and difficult, and starting with small plants will mean waiting a very long time and potentially losing individual plants to the stress of being planted too small. There is also the trouble of digging many holes and making sure all the plants are straight upright.

Planting a traditional yew hedge is labor-intensive and complicated (left). Planting a  Hicks Yew InstantHedge is fast and simple (right).
Planting a Hicks Yew InstantHedge means the work of waiting has already been done for you. Simply plant the yew hedge units end-to-end in a trench. They are pre-spaced, pre-shaped, and pre-finished so that you can have a mature, finished hedge in just one day.