Check Availability
European Beech (Fagus sylvatica) hedge is well-known as a towering deciduous naturally large tree, but it also can be shaped into a stunning hedge. The European Beech tree's leaves change color with the passing seasons, which makes it an attractive hedge in many outdoor spaces. It is a classic, beloved hedge choice and has the added benefit of holding its copper-colored fall leaves on the branches all the way through winter for year-round screening.
EUROPEAN BEECH QUICK GUIDE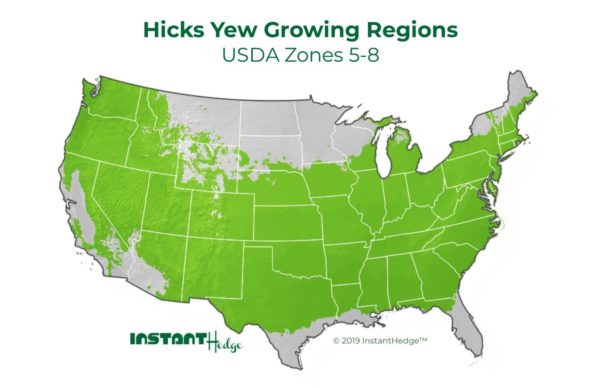 European Beech Hedge is a naturally low-branching tree, so it works especially well for hedging.
Beech Fagus sylvatica has lovely bark that is smooth and silver-gray.
European Beech's foliage turns bronze in fall and clings to the branches through winter, providing year-round screening and privacy.
FAGUS SYLVATICA HEDGE DETAILS
There are a number of immediate benefits to choosing Beech Fagus:
Makes a uniquely attractive hedge with heavy pruning
Tolerates a wide range of soils
Low-branched habit makes it suitable for hedging
Grows well in colder regions
Lush, green leaves in summer with great fall color and winter screening
Fagus sylvatica has an attractive upright-oval to rounded-spreading crown when left alone and can be pruned to any desired hedge style.
Native to the woodlands of central and southern Europe, the European Beech hedge was brought to America by colonists in the mid-1700s and has remained a popular ornamental tree ever since.
USDA Hardiness Zones:

5 - 8

Your Hardiness Zone:

Your auto-detected zip code:

Detecting...

And your zone is:

Detecting...

Sun/Shade:

Full Sun to Partial Shade

Deer Resistance:

Moderate

Watering Requirements:

Weekly, or more often in extreme heat

Growth Rate:

Moderate, to 2' per year

Mature Size:

Up to 12' height and 4' width

Drought Tolerance:

Excellent

West Coast - Sunset Heat Zones:

2 - 9 and 14 - 21; A3

Pest/Disease Issues:

No serious problems. Weevils, mealybugs and scale are problems in some areas, as are twig blight and needle blight.
European Beech InstantHedge - A Year in the Life
Watch the process of a European Beech InstantHedge from planting through its first year of growth. Wondering how the InstantHedge process works? This shows you how to create instant privacy and design - without the wait.
Buy your Hedge
Every kind of Hedge imaginable, delivered.
Want to go big and Instant? Or would you rather start small? InstantHedge® now offers ways to buy hedges in all sizes and quantities.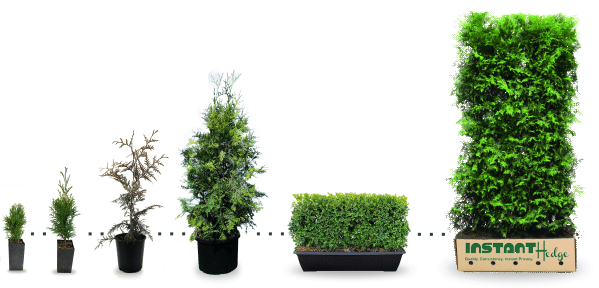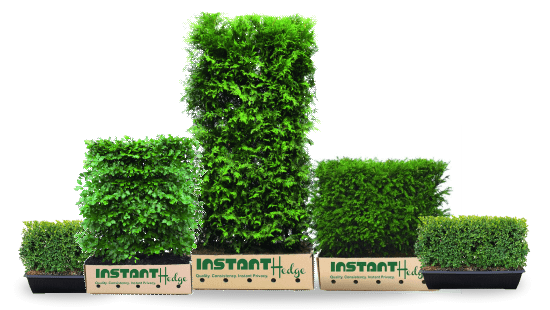 *Wholesale pricing is strictly extended to members of the green industry - including but not limited to: Landscape Companies, Garden Centers, Landscape Suppliers, and Landscape Architects.
We reserve the right to review all customer applications and eligibility for wholesale pricing.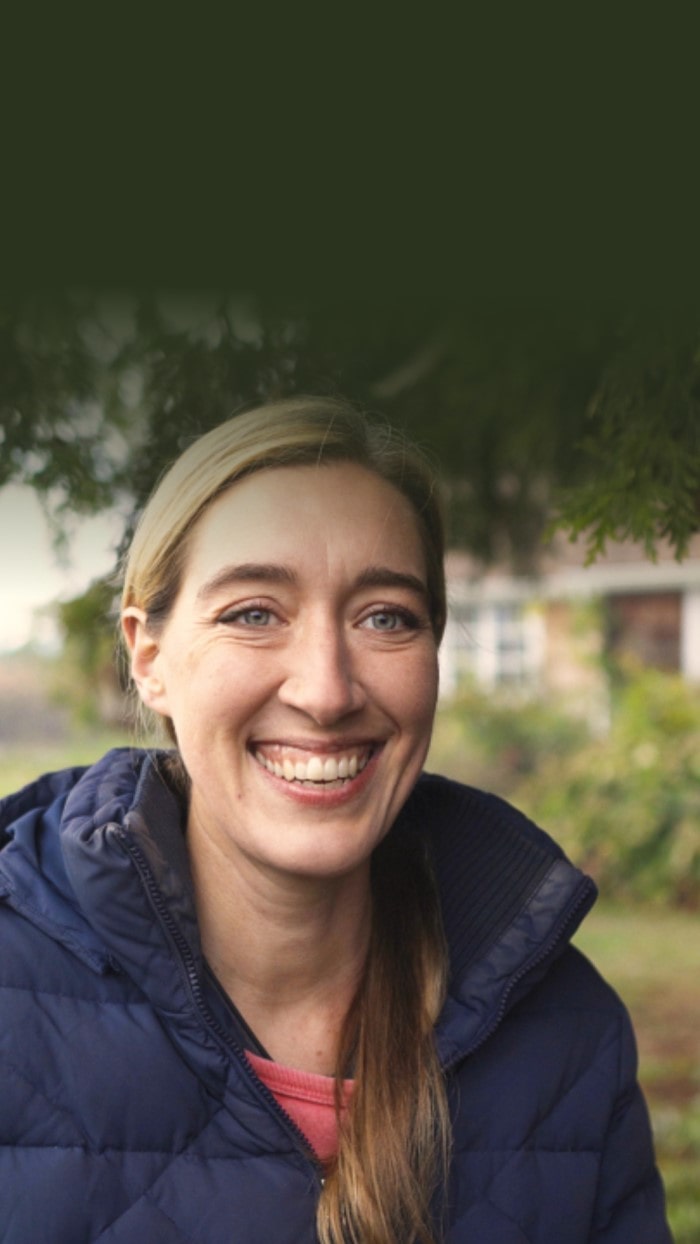 Customer Testimonial
Learn what sets us apart from the rest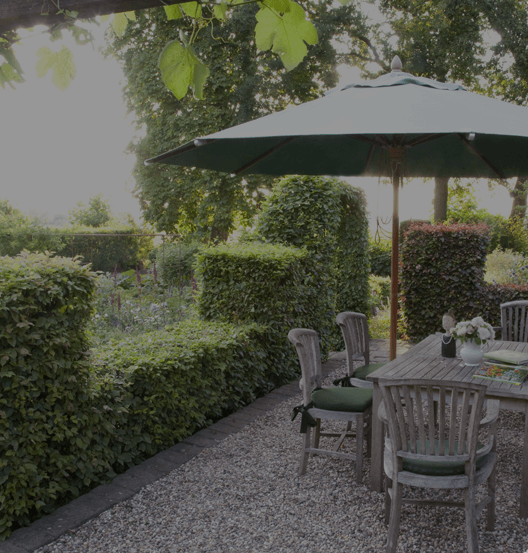 Residential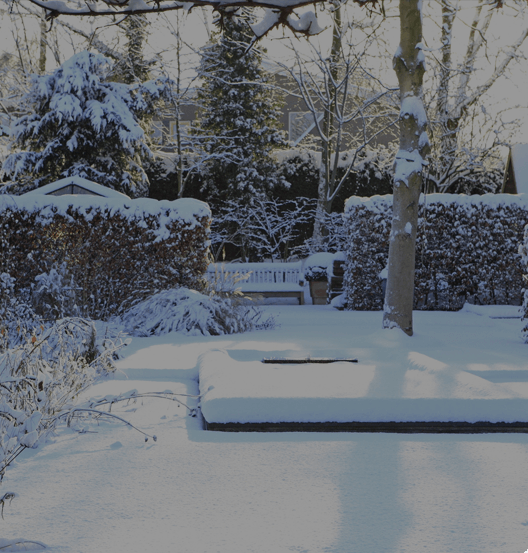 Winter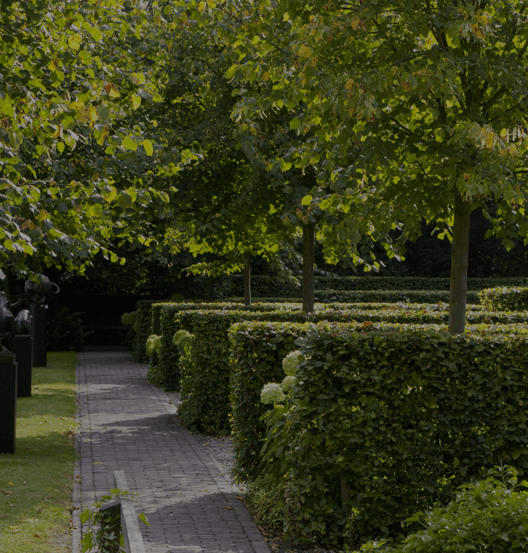 Commercial
WHY PLANT FAGUS SYLVATICA HEDGE?
European Beech (Fagus sylvatica) is a classic hedge choice that has been used to create beautiful hedges for thousands of years. Between its lush green foliage, lovely fall color, graceful form, leaf retention through winter, and incredible longevity, it has proven itself over time to be one of the best possible hedging choices available. Fagus sylvatica can be grown into a very large hedge over time, but it can also be kept small and very manageable with regular pruning. It has a low branching habit which makes it perfectly suited for hedging. It is an easy-to-grow hedge that tolerates a wide range of soils and other factors, and it is very cold-hardy.
FEATURES OF EUROPEAN BEECH HEDGE
Foliage
European Beech is one of the few popular hedges that can boast a stunning seasonal color change. First, in spring, leaves are fresh, bright green. For summer, they are deep green, smooth, and shiny. In fall, they turn various shades of copper, rust, and gold. Through winter, Fagus Sylvatica is deep rust. Buds are long, pointed, and smooth.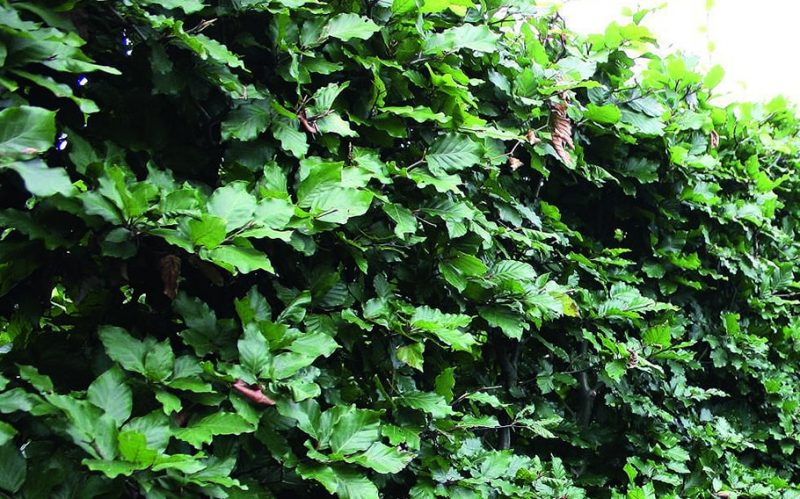 Summer foliage on Fagus sylvatica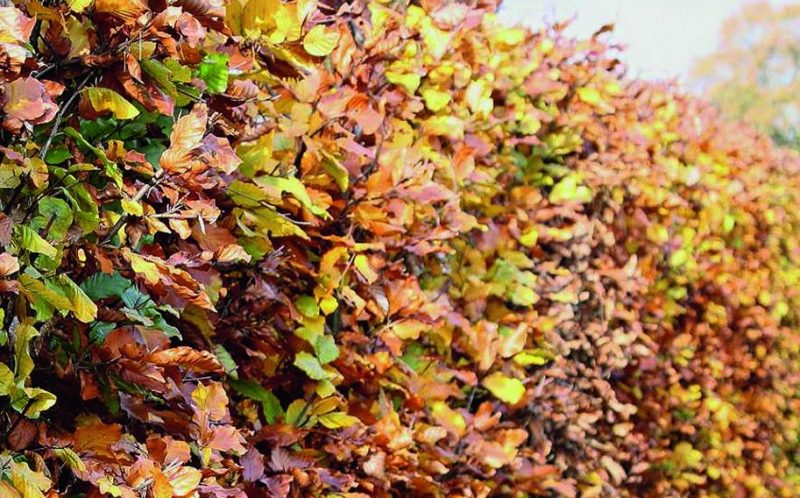 Fall foliage on Fagus sylvatica
Branches
European Beech branches are smooth, graceful, and lovely. With nothing knobby or angular, a beech hedge always looks elegant. Even if branches are bare (perhaps from an early spring windstorm right before spring flush), they are smooth, silvery, and beautiful. It could be argued that there is not a day in the whole year when this hedge does not look lovely.
Leaf Retention
One huge benefit of choosing a beech hedge is that, even though it is deciduous, it provides year-round privacy. After the European Beech leaves turn their lovely copper hues in autumn, they fade to the color of rich leather and cling to the branches until just before they flush for spring. Fagus sylvatica defies the rule that you must plant an evergreen hedge for year-round privacy.

Thuja Green Giant maintains its bright green color even in winter.
Longevity
There is perhaps no better example of this than the Meikleour Beech Hedge in Scotland. It was planted in 1745 and is listed in the Guinness Book of World Records as the highest hedge in the world. It was planted as a memorial for fallen soldiers and today is a popular tourist attraction. This Fagus sylvatica hedge is still stunning despite its almost 300 years of age, although at 100 feet tall maintenance has become quite difficult! Although most of us don't plan to maintain a hedge for more than a few decades, it is interesting to note that this tree can thrive in the same footprint for a very, very long time.
GROWING TIPS FOR FAGUS SYLVATICA
Planting
European Beech is a forgiving and easy-to-grow hedge. We prefer to ship beech in fall, winter, or spring, but we can ship in summer if needed. The hedges will do just fine the next year if planted in summer, but there may be some premature browning of the leaves in the first summer of planting. For the best success, we do recommend planting while they are still dormant or just leaving/entering dormancy.
Exposure
European beech can be grown in full sun to full shade, making it wonderfully versatile for all kinds of locations. This is especially useful if you are planting a very long hedge that passes through areas with full sun and full shade, as you can use the same type of hedge throughout.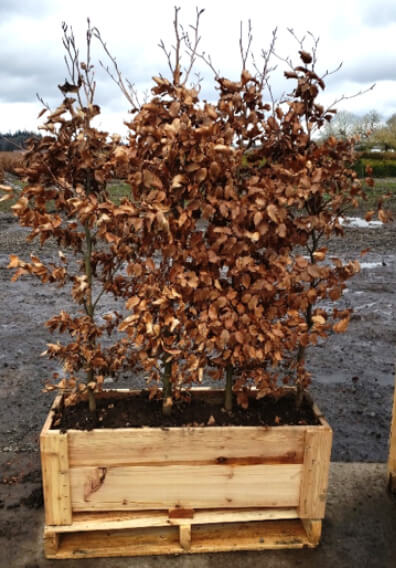 The best time to ship and plant European Beech is in fall, winter, or early spring while still dormant. This puts the least amount of stress on the plants.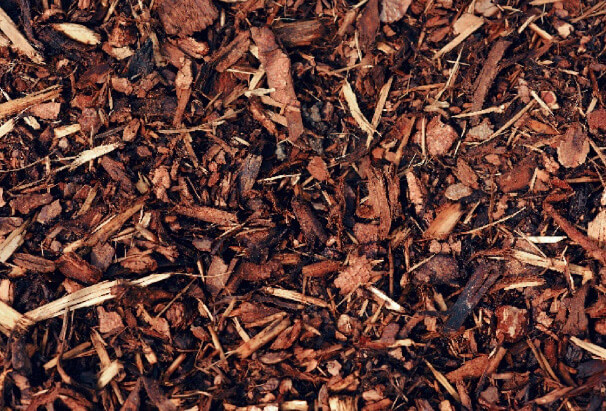 A generous application of mulch will help protect shallow roots in high-traffic areas
Soil
Fagus sylvatica is tolerant of a wide range of soils, even poor soils. Most roots grow in the upper two feet of the soil, so a generous application of mulch around the base of the hedge will help protect the roots, especially if you are planting in an area with high foot or vehicle traffic. The deepest roots typically reach a maximum of 7 feet. Beech is fairly drought-tolerant but will thrive better if provided moderate water in summer.
Pruning
It is generally recommended to prune Beech hedges twice per year: the first taking place in early summer after the first flush of growth, and the second in late summer around August to encourage another flush of growth before dormancy. This second flush of leaves will be the most likely to stay on the branches through the winter to provide screening. Save any removal of large branches for when they are dormant in winter. It is best to prune Beech hedges with handheld pruners that are very sharp, rather than electric hedge trimmers.

Large branches on beech hedges should be removed in winter during dormancy, but regular pruning should be done in early and late summer.
Pollution
Although beech does not thrive in salty coastal climates, it is tolerant of urban pollution and is a great city tree.

A Beech hedge is an excellent choice for urban plantings as it is tolerant of urban pollution.
Pests
There are no major pests for beech, and any issues can usually be cleared up without any permanent damage to the plants. Beech are mostly deer-resistant as well.
European beech has wonderful resistance to most pests and diseases, and is quite deer resistant as well (in winter when deer are hungry the beech don't have anything for them to eat, and in summer the deer have other choices that they prefer).
The one pest unique to beech that you might notice is the Woolly Beech Aphid. It only affects beech plants and can be somewhat alarming to discover. The good news is that the aphid won't cause any permanent damage to the plants and is easy to treat. Typically, people don't even bother to treat it because it is barely noticeable. The worst thing about it is the aphids produce a sticky "honeydew" on the leaves which may attract ants, and in severe infestations it can provide a place for a sooty black mold to grow. However, that is only in extreme cases which are rare.
Treatment can be as simple as blasting the affected leaves with a strong jet of water, or you can use an insecticidal soap or oil which has very low toxicity. Since these aphids only affect beech, you don't need to worry about them spreading to other types of plants. Beneficial insects like ladybugs, lacewings, and parasitic wasps can also help control populations of the woolly beech aphid and other insect pests.
To learn more, visit http://oregonstate.edu
Hardiness
Hardy to USDA Zone 4 or 5, Fagus sylvatica is a great option for colder areas.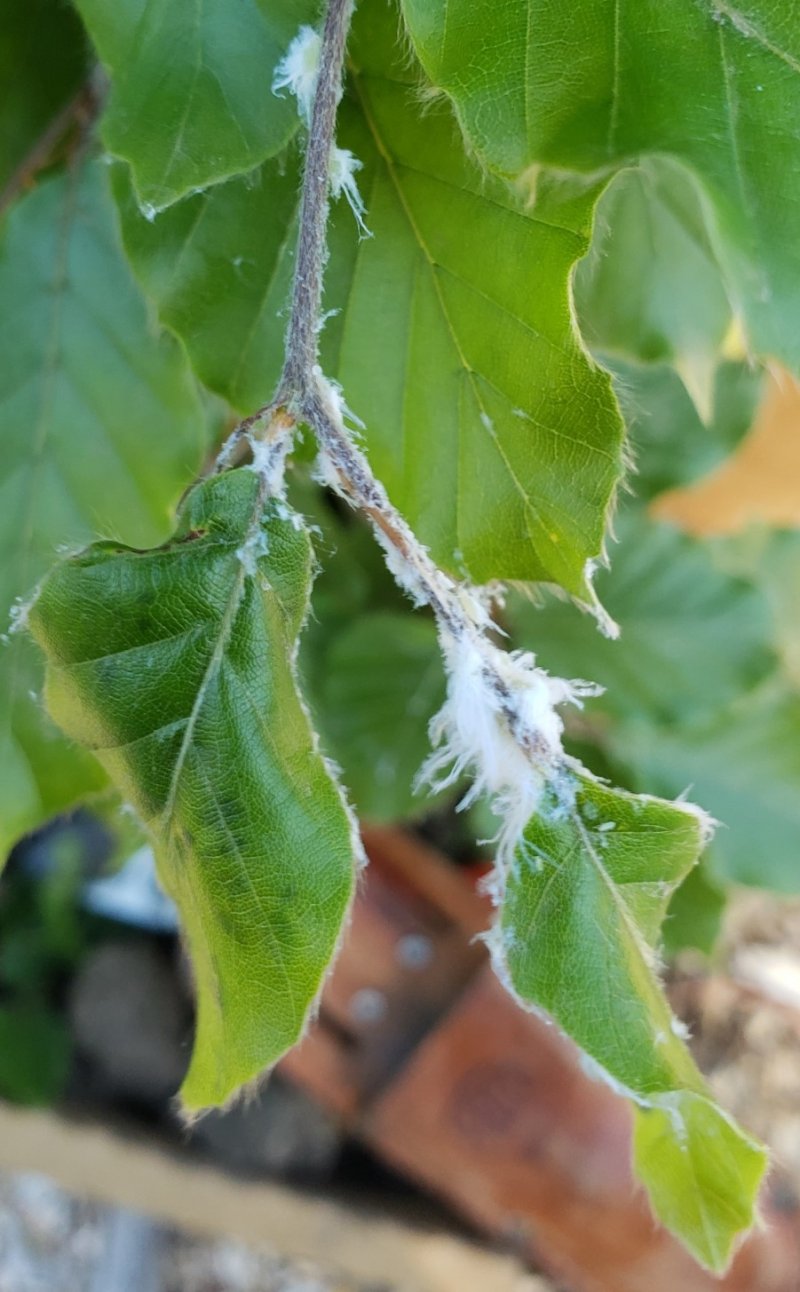 WHY CHOOSE INSTANTHEDGE FOR EUROPEAN BEECH HEDGE?
Beech hedges are often purchased as bare-root trees or small whips. This will give you small plants for a low starting price. However, Fagus sylvatica does not grow at a very fast rate, so you will have to wait 4-5 years to achieve a full, finished hedge. You will also run into problems with losing plants from disease and damage because of the stress caused by bare-rooting plants and planting too small.
Europeans developed a brilliant system that would allow people to buy an "instant hedge," and we are proud to be the first and only nursery to bring the technology to the USA. When you purchase a European Beech InstantHedge, you are guaranteed a vigorous, healthy, finished hedge from day one. The hedges will arrive pre-spaced and pre-shaped with a vibrant root system that is ready to grow and establish. Why not start with the European Beech hedge that has already been finished by hedge experts?