Arborvitae hedges are extremely popular hedge varieties for screening and privacy due to their evergreen foliage, dense growth habit, lush green color, hardiness, and ease of maintenance. Arborvitae is a fast-growing evergreen hedge that is easy to care for and use for privacy and screening purpose. Evergreen arborvitae hedge is hard to beat if it's about getting richly-green handsome appearance for the landscape.
There are many varieties of arborvitaes to choose from, including Green Giant (Thuja x 'Green Giant') and Emerald Green Arborvitaes (Thuja occidentalis 'Smaragd').
QUICK LINKS
4 Varieties of Arborvitae
HOW TO FIND THE BEST TYPE OF ARBORVITAE?
Different types of arborvitae varieties are prized for different reasons, but the main thing persists: you can't beat the dense growth and beautiful, dark green foliage. The differences include hardiness zones, growth rates, growth habits, maintenance, light requirements, and deer resistance. See different types of hedges. Buy Arborvitae trees for Sale at InstantHedge Oregon.
HARDINESS
Cold hardiness obviously makes a big difference on where different varieties of arborvitae hedges can be grown. In general, the hedge is used a lot in the Northern and Midwestern US due to their tolerance for cold temperatures.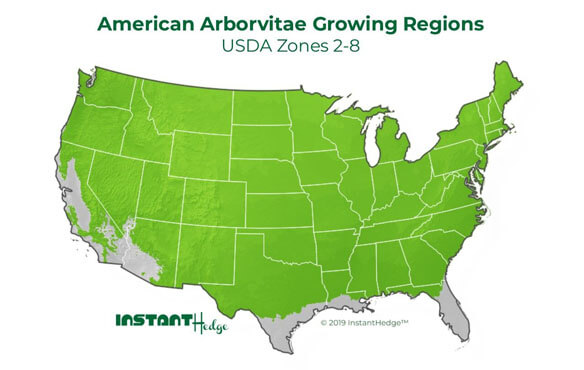 THUJA OCCIDENTALIS
Aka Thuja Occidentalis is extremely cold-hardy, thriving in USDA Zones 2-8! This applies for the straight species as well as the variety Emerald Green.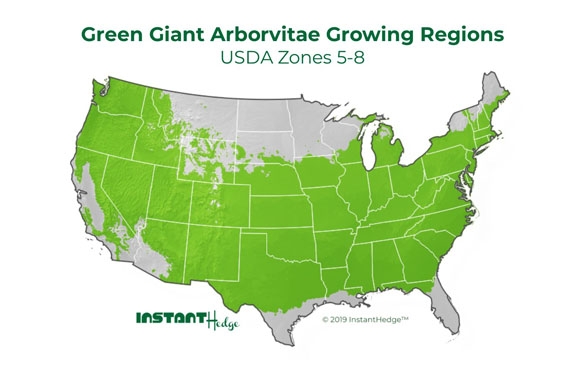 GREEN GIANT ARBORVITAE
Aka Thuja x. 'Green Giant' is a hybrid between Thuja plicata and Thuja standishii. It is hardy in USDA Zones 5-8, which still covers a lot of the colder regions of the US and can grow further south than Thuja occidentalis.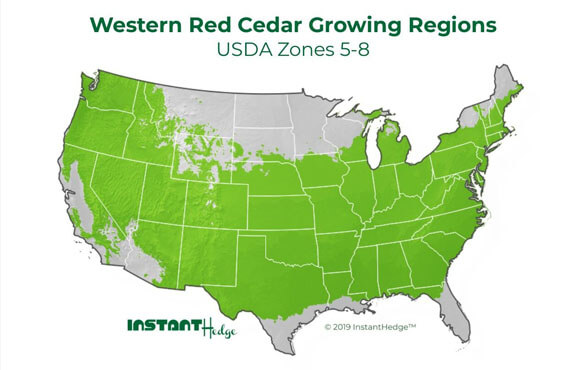 VIRESCENS WESTERN RED CEDAR
Aka Thuja plicata 'Virescens' is a visually striking hedge, thriving in USDA Zones 5-9! Thrives in moist environments and regions with cooler summer climates, but does well in a variety of settings.
ARBORVITAE GROWTH RATE
There is a big difference in the growth rate of Arborvitae Hedges. This factor is important to consider when choosing a hedge variety.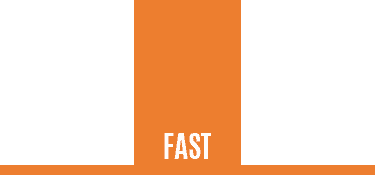 Green Giant Arborvitae grows at an incredibly fast rate; up to several feet per year in the right growing conditions! Use when fast height is of the utmost importance and there is ample room for width as well. This plant will require pruning to keep it under control.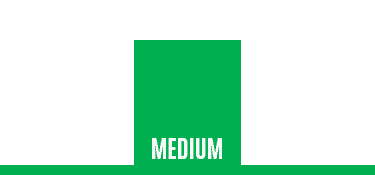 American Arborvitae and Virescens Western Red Cedar are medium-rate growers, increasing by 1-2 feet per year in optimum growing conditions. Use when fast height is important, but width space is limited and/or less pruning is desired.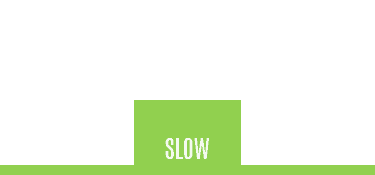 Emerald Green Arborvitae is the slowest grower of the Arborviate group. The bad news is it will take longer for these to reach towering heights to provide second story privacy. The good news is that you will have optimum density and minimal pruning needed.
GROWTH HABIT OF ARBORVITAE
Looking at the plant's natural growth habit can help guide decisions as well. From looking at the diagram below, you can see that the Green Giant will fill out a big space faster than any other variety but will need intensive pruning to maintain in a smaller space, while the Emerald Green will take some time to fill out a big space but will be incredibly low-maintenance in a small space. The growth rate of arborvitae differs from variety to variety.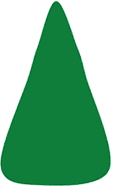 VIRESCENS WESTERN RED CEDAR
Green Giant Arborvitae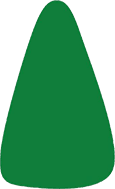 THUJA X GREEN GIANT
American Arborvitae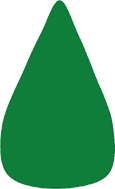 THUJA PLICATA 'VIRESCENS'
Virescens Western Red Cedar

Thuja occidentalis 'Smaragd'
Emerald Green Arborvitae
ARBORVITAE CARE AND MAINTENANCE
Talking about the care of arborvitae, they are generally quite low-maintenance, needing little to no supplemental water and light pruning. As we have discussed, however, some varieties grow a lot faster than others and will require more intensive pruning if a small, manicured hedge is desired. It is very important not to let the arborvitae hedges get very large and then prune hard to regain control, as Thujas have limited latent buds and will not "fill in" like other hedge types. We have all seen the very ugly result of this poor management practice. Keep on top of it and you won't have any issues!
Emerald Green Arborvitae
has the lowest pruning requirements than other varieties (maybe of any plant!) to maintain as a tight hedge. Prune lightly once per year or as needed to shape.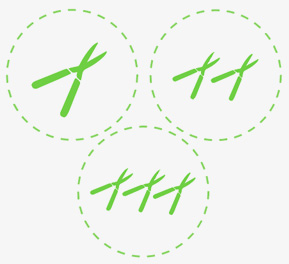 Thuja Occidentalis
and
Virescens Western Red Cedar
will need yearly pruning to keep at an appropriate hedge size. These make wonderful mid-sized hedges.
Green Giant Arborvitae
is the most vigorous grower of the group and will in some years require 2 prunings to keep to a small size. This is a good option for a privacy hedge as it will reach a large size quickly.
ARBORVITAE PRUNING TIP
Prune the top half of the arborvitae hedge to be slightly more narrow than the bottom half. This will prevent the lower foliage from shading out and will keep your hedge uniformly beautiful for years to come!

LIGHT REQUIREMENTS
Sun/shade requirements also make a difference when choosing the right arborvitae types for your space. When a plant grows as tightly as these varieties, they tend to do poorly in overly shady environments. Poor air circulation and damp conditions cause the inner foliage to stay wet, providing a perfect place to harbor disease. There are some more shade-tolerant arborvitae varieties along with the sun-lovers, shown in the following table:

EMERALD GREEN ARBORVITAE
needs full sun to stay healthy since it has extremely dense growth

AMERICAN ARBORVITAE
and Virescens Western Red Cedar can both grow in full sun to partial shade.

GREEN GIANT ARBORVITAE
can grow in full sun, partial shade, or mostly shady environments, due to its loose and vigorous growth.
DEER RESISTANCE
Arborvitae carries varying levels of deer-resistance. Although there is no such thing as a 100% guaranteed deer-resistant , Green Giant does come pretty close!

GREEN GIANT ARBORVITAE
is deer-resistant. It can also be used to create a deer-proof hedge around other deer-favorites!

VIRESCENS WESTERN RED CEDAR
is not a deer favorite by any means. Very hungry deer may nibble, but they won't be back for more.

EMERALD GREEN ARBORVITAE
and Thuja Occidentalis are, unfornuately, well-loved by deer as well as humans. Other varieties should be considered for deer-heavy areas.
DESIGNING WITH ARBORVITAE
Cedar have a wide range of uses, no secret to any landscape designer! They can be used alone as unpruned or topiaried specimens, and they are also excellent for hedging. Privacy hedges, lining driveways, and creating garden rooms are some of the best uses for this hedge. You can explore more hedging plants.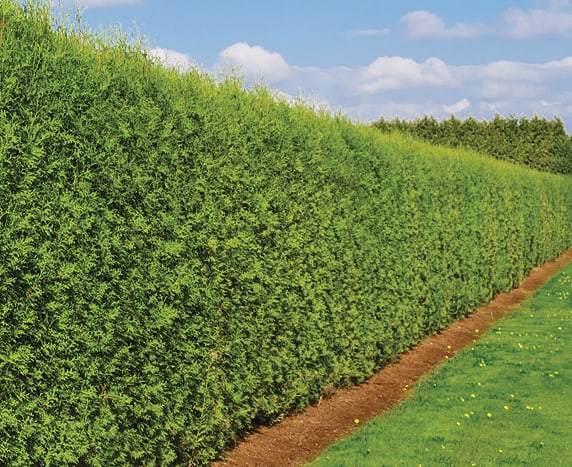 Privacy Hedges
The dense habit of this hedge means unparalleled privacy when used as a screen.
Lining Driveways
Driveways get a stylish upgrade when lined with a luxurious cedar Hedge.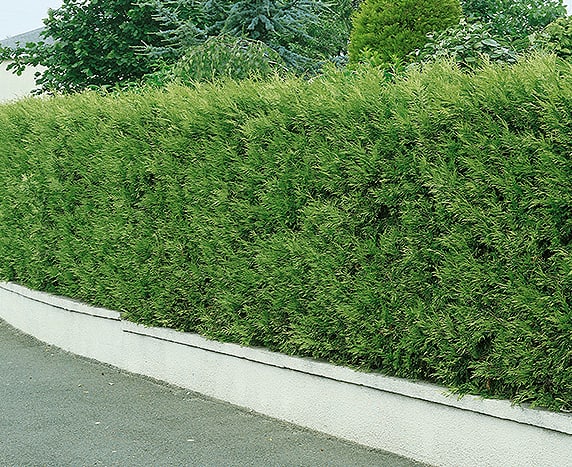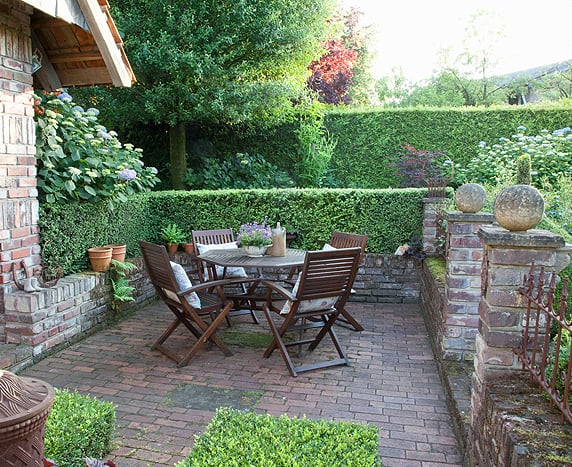 Garden Rooms
Different areas of a garden become more useful when designated for specific purposes. Section off a quiet area for reading and deep conversations with a tall arborvitae.