Peace. Quiet. Solitude. Privacy.
Privacy Hedges allows you to enjoy all these qualities in any yard, no matter how noisy or urban the area.
It blocks noise and peering eyes while providing beauty to the garden and a home for small animals.
So what bushes are good for privacy? We have compiled a list of the best bushes for privacy. They are each suitable for different situations, so we are sure you will find your perfect match!
QUICK LINKS
8 Varieties of Privacy Hedges
What Makes a Great Privacy Hedge?
For great privacy hedges there are three main factors:
Density
Height
Evergreen
You want tightly-branched evergreens for privacy to avoid any gaps. You can do this two ways: opt for privacy shrubs with extremely dense branching, or trim your looser-growing hedge religiously each year.
Height
The great news about evergreen hedges for privacy or garden over a fence is you can usually grow a hedge much taller than you might be allowed to build a fence based on CC&Rs from your community. Want privacy for the second story windows of your house? No problem.
Evergreen
This one is flexible. While evergreens will provide solid, year-round protection, if you only need it for an outdoor space in the summer you could go with deciduous privacy hedges. We recommend choosing privacy shrubs, something like European Beech, which is deciduous but holds its copper-colored leaves through the winter and still provides a shield.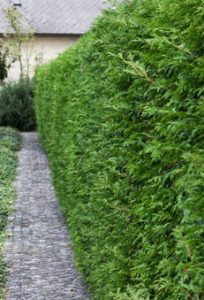 Maintaining a Privacy Hedge
The key to maintaining a perfectly dense privacy hedge is consistent pruning on the sides. If the hedge is allowed to grow large and leggy, then pruned hard, you will end up with gaps (in laurels and beech this can be corrected, but in conifers, it usually can't). A quick, simple trim once per year on fast-growing varieties and once every 2 years on slow-growing varieties is all you need to keep your hedge full and dense. Pruning the top half of the privacy hedges a little slimmer than the bottom will keep the lower branches nice and full (see the diagram below).
For more information on how to get privacy trees as fast as possible, check out our page on fast-growing hedges.


Swimming pools are one of the most important places to use privacy hedges
Homes located on busy streets can still feel quiet and secluded when surrounded by a privacy hedge
Simple and elegant privacy hedges can be used at residences, restaurants, and event venues to create private outdoor eating areas
Emerald Green Arborvitae gives dense privacy, blocking noise, wind, and eyesores
Block neighborhood sounds and views with privacy hedges to create a peaceful sanctuary
Entries and driveways gain drama and glamour when lined with lush privacy hedges
Create peaceful, quiet spaces by surrounding them with tall privacy hedges
Outdoor living becomes a lot more peaceful with a lush privacy hedge
Block noise effectively by layering different heights of privacy hedges around an outdoor living space