Urban garden ideas & design comes with its own unique challenges—function and versatility in a design plan it typically prioritized, along with a desire for plants and design components to be multi-functional as well as beautiful. Installing hedges is a practical way to increase the versatility of urban space while rising to the challenge of creating an attractive design in smaller, more confined green spaces.
Small gardens, patios, and balconies, even the creation of courtyards and 'green roofs' are all enhanced with hedge use. With urban property owners confronted with smaller 'natural' spaces in densely packed areas, hedges can create diverse, multi-functional spaces in a variety of design plans—with urban garden ideas, installing a boxwood hedge using low plantings is a simple way to create a courtyard within an existing space and a way to make distinct spaces in smaller gardens and plots.
Many hedge varietals thrive in planters and containers, making them excellent choices for patios and balconies—some hedge shrubs have root structures able to withstand shallower planters, while some varietals can even double as ground cover. Using hedge shrubs and trees in containers allows for easy care and maintenance, ideal for smaller spaces.
Potted hedges can soften the structurally rigid edges of corners found in built courtyards and patios, and placing hedges in containers allows the urban property owner greater planting versatility—with the container hedges as standalone features, the urban gardener can increase the number of shrubs, bushes and trees used.

Hedges can also be layered into planters and containers, allowing for a customizable density. Densely layered container-grown hedges can have a similar practical effect as traditionally grown hedges being used as noise buffers, privacy screens and wind/shade barriers.
Growing hedges in containers and planters is a practical way to make use of otherwise uniquely challenging spaces: everything from narrow parking strips to pet areas can benefit from hedge installation as either privacy screens or simply increasing the aesthetic impact of a 'green' space.
Urban spaces with existing structures (fences, walls, poles) can be enhanced with hedges planted against them, acting as an attractive visual screen for structures that can't be otherwise removed or covered. Many hedge varietals can be eventually trained to cover entire walls, with careful pruning to reveal windows and doorways, and urban designers can choose from a wide variety of blossoming/floral or otherwise visually impactful foliage for coverage appropriate to the structure being covered.
Hedges are also easily installed on 'living' or 'green' roofs—a building's roof which has been planted with shallow-rooted vegetation along with irrigation and drainage engineered into the design, which would benefit from the use of a hedge as a soil stabilization method.
Incorporate small-scale privacy screens in planters or containers
Hedges can cover permanent structures the property owner is unable to remove
The use of hedges in containers allows the designer to use more of a variety of hedge plants — creating a diverse aesthetic display.
Create a green space instantly on otherwise unsightly features, such as parking strips.
Hedges can be used to create screens and rooms in smaller spaces, making an otherwise space multi-functional.
Even small balconies can install an InstantHedge, allowing the property owner to create immediate privacy in a densely packed with some urban landscaping ideas setting. Also, see Suburban landscaping and Company gardening by choosing hedges. Explore different types of hedges for landscaping purpose. Design your yard with some urban garden ideas today!
URBAN GARDEN GALLERY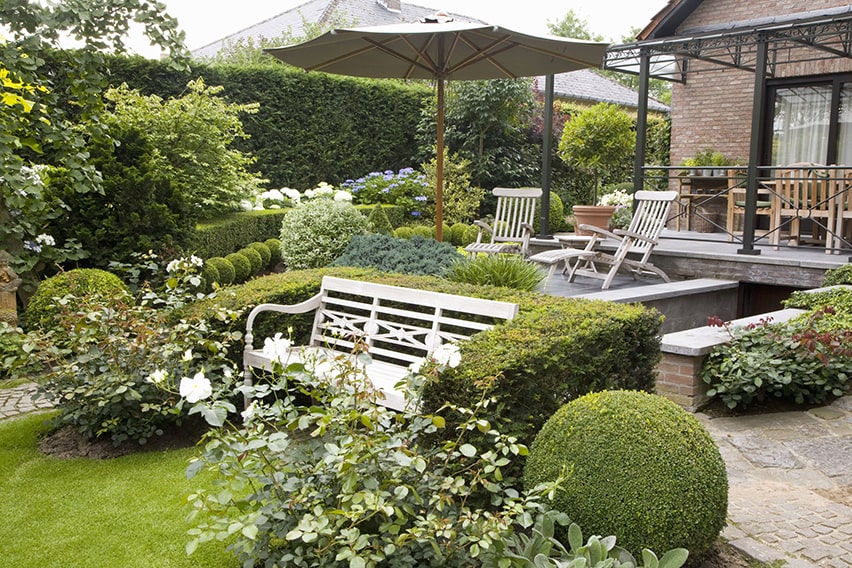 Multiple types of hedges are used in this backyard garden to create layers and thus make the landscape seem larger.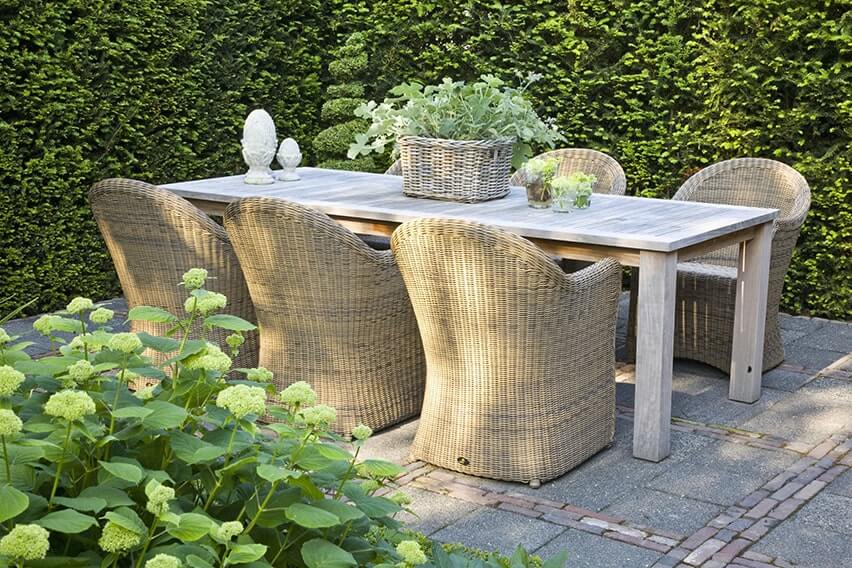 This elegant yew (Taxus) hedge not only provides an effective screen but also creates an elegant backdrop for an outdoor living area.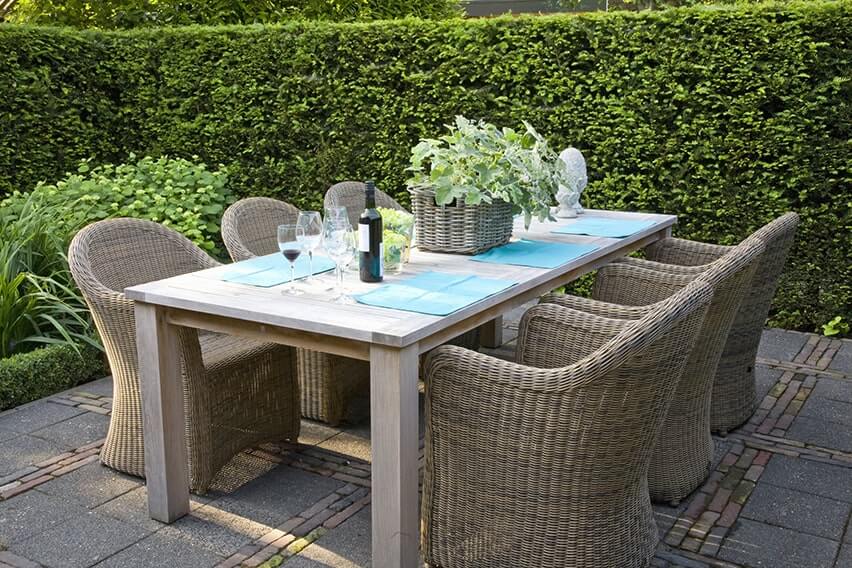 This elegant yew (Taxus) hedge not only provides an effective screen but also creates an elegant backdrop for an outdoor living area.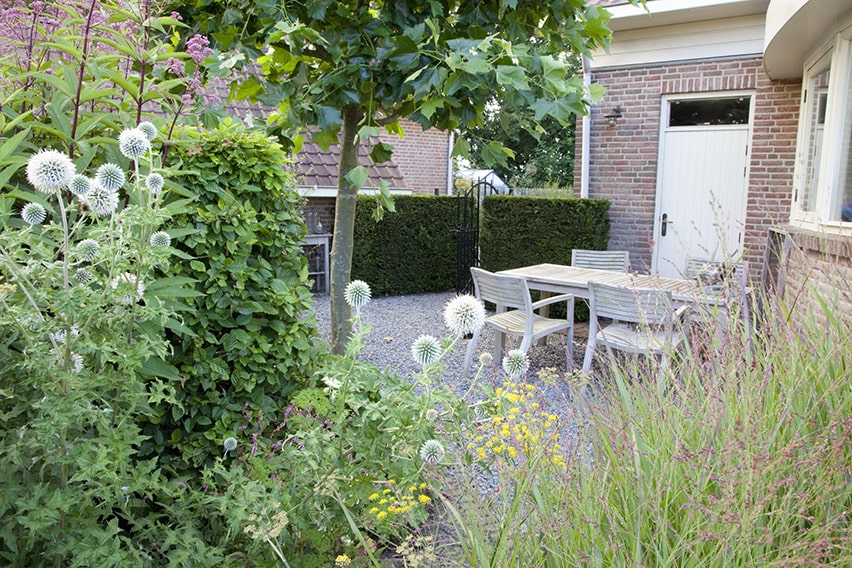 Where homes are fairly close to each other, a well-placed hedge like this yew (Taxus) can make your outdoor space more inviting.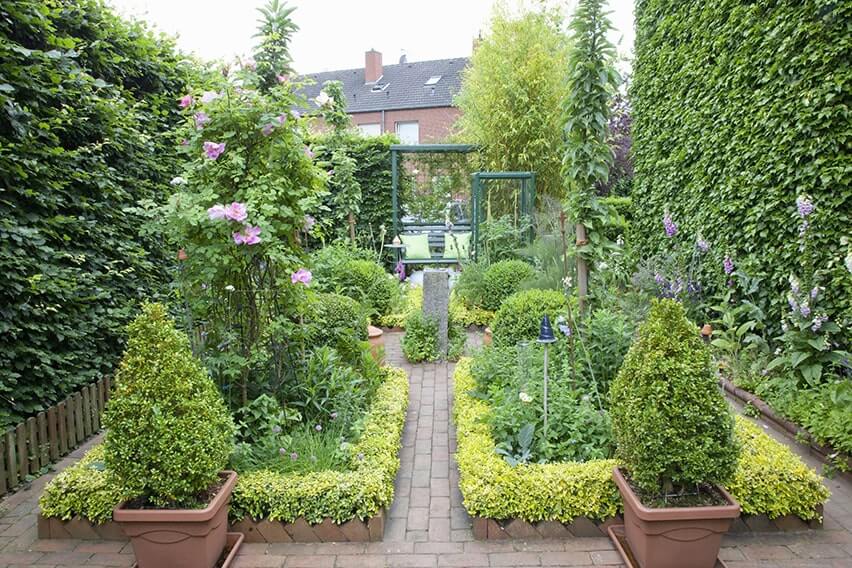 European beech (Fagus sylvatica) is used to make this narrow city lot seem more secluded.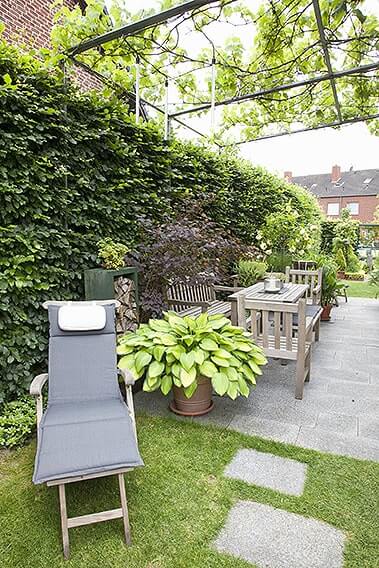 A serene backdrop is created by using European beech (Fagus sylvatica) for privacy on this city lot.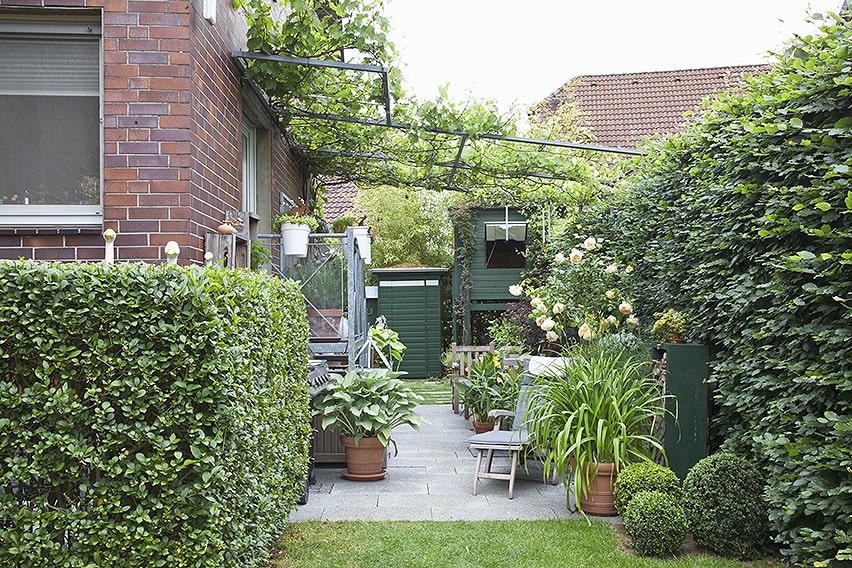 A small patio space beside this suburban home effectively extends the living area of the home by using an InstantHedge along with a trellis/arbor for a roof of vining plants!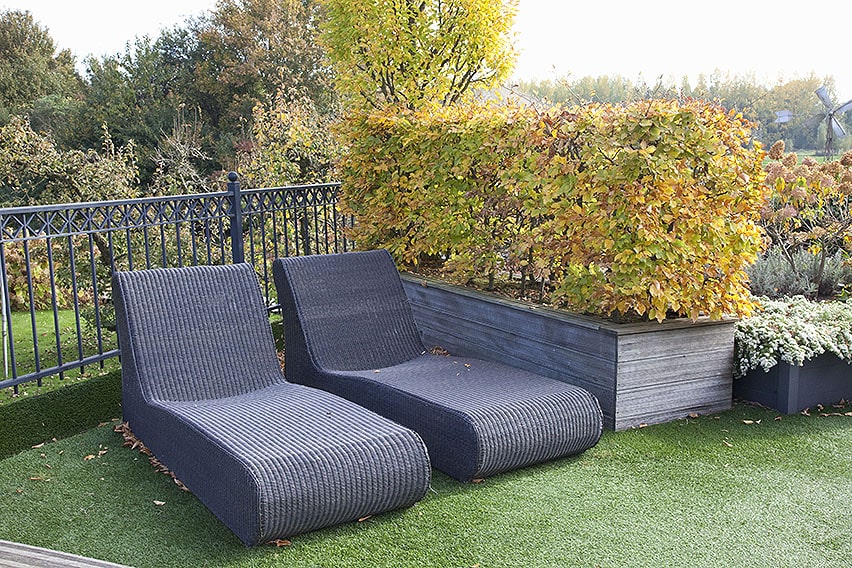 Beech hedges can easily be grown in planters anywhere, including patios, balconies, and green roofs.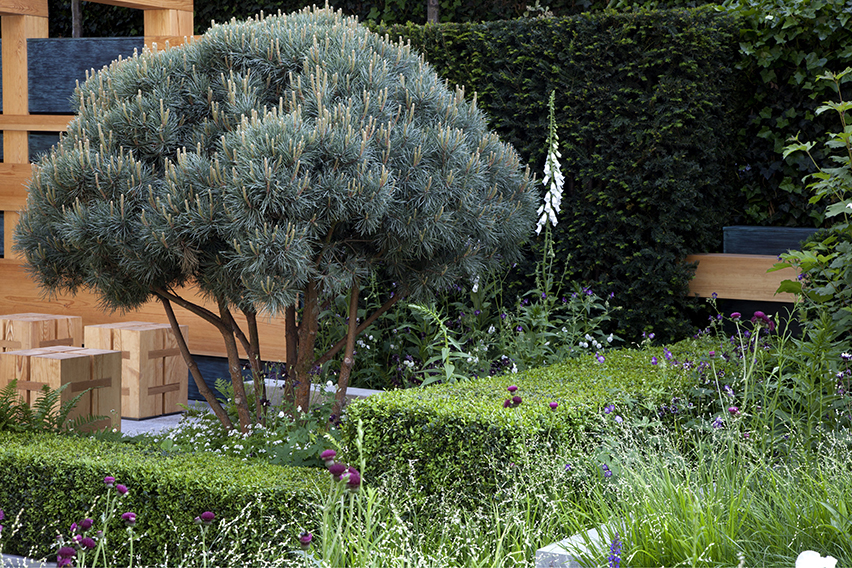 Both a boxwood (Buxus) hedge and a darker green yew (Taxus) hedge are at home in this well-designed modern landscape.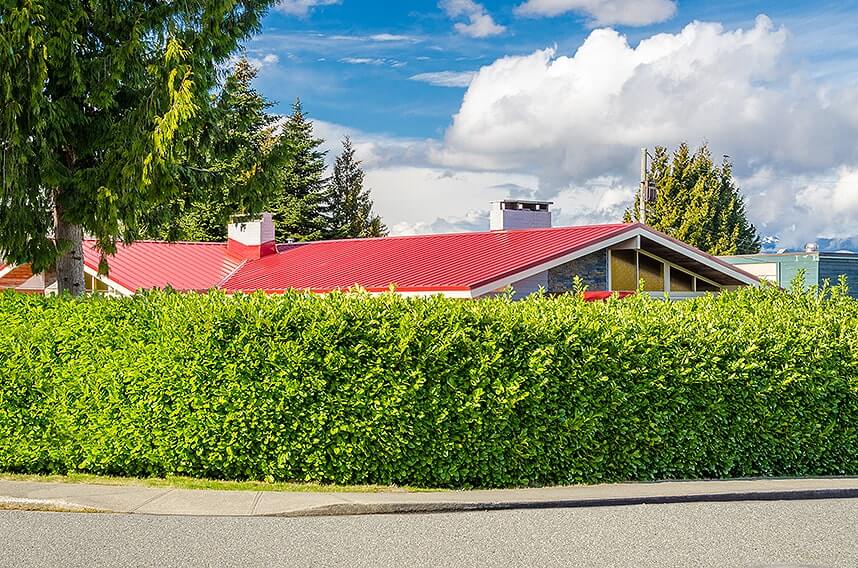 A thick, dense, privacy hedge like English Laurel provides privacy and blocks road noise to create a quiet outdoor patio area even for urban homes.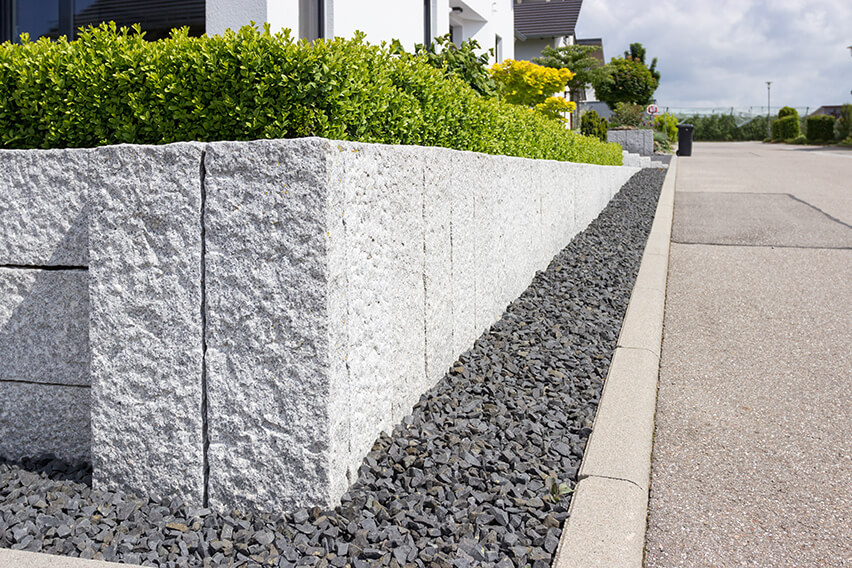 Urban businesses gain instant curb-appeal with a tidy, uniform boxwood hedge encircling their building.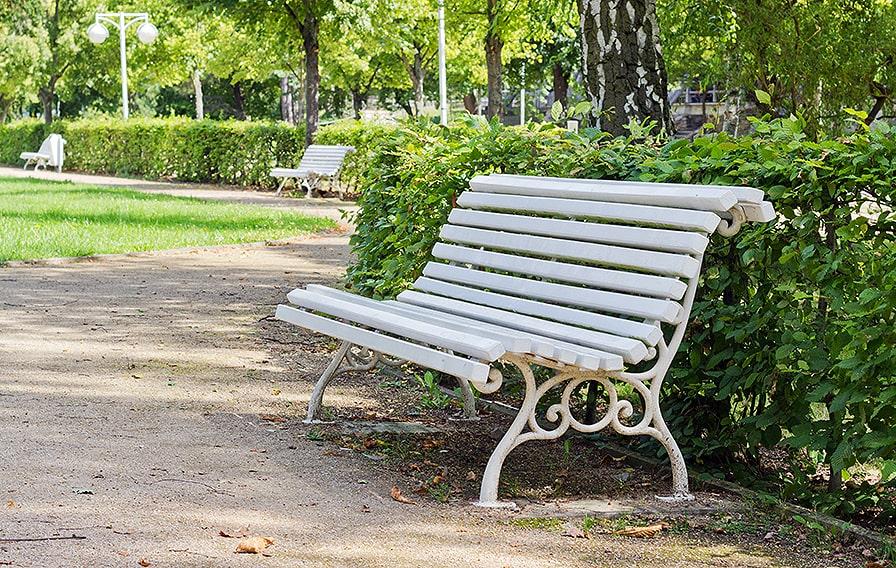 Beech hedges add beauty, privacy, and quiet to public parks.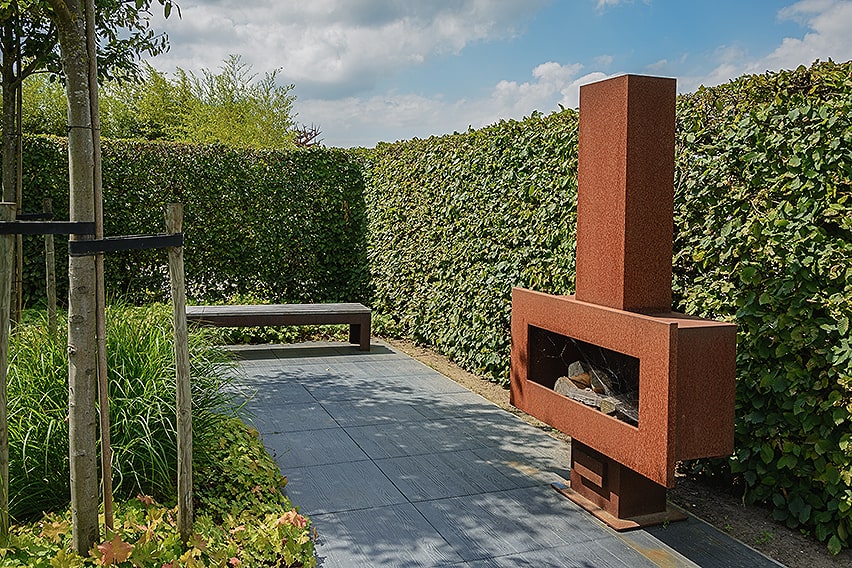 This modern outdoor area feels like a secluded resort even though it is in a busy suburban area.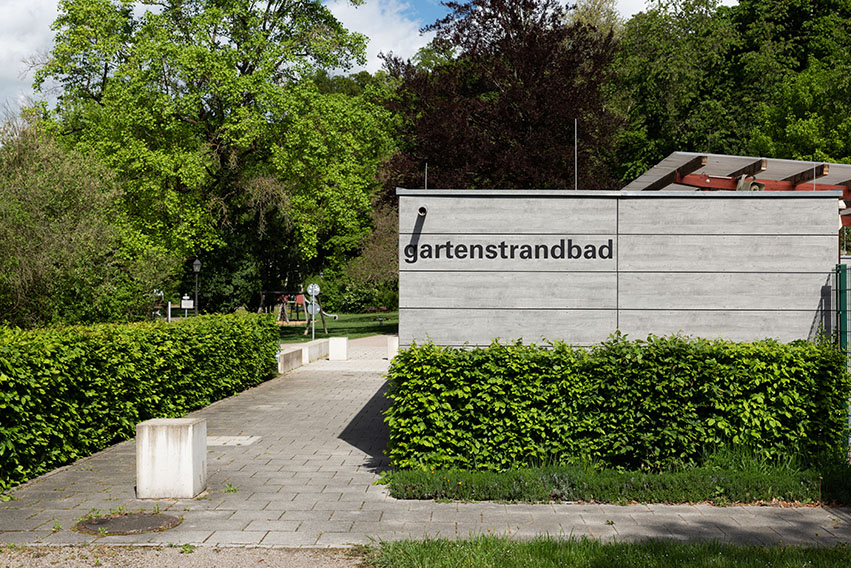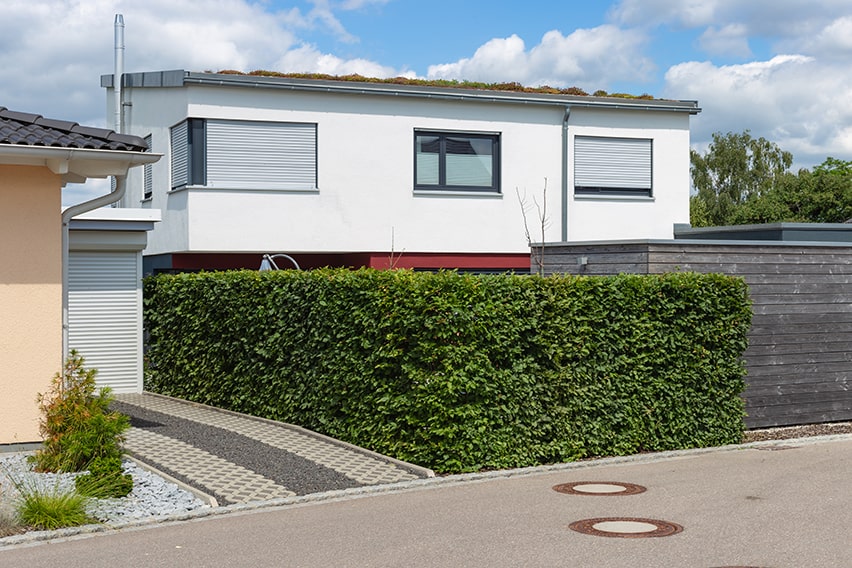 Even urban dwellings have have a private patio for summer gatherings when surrounded by a tall beech hedge.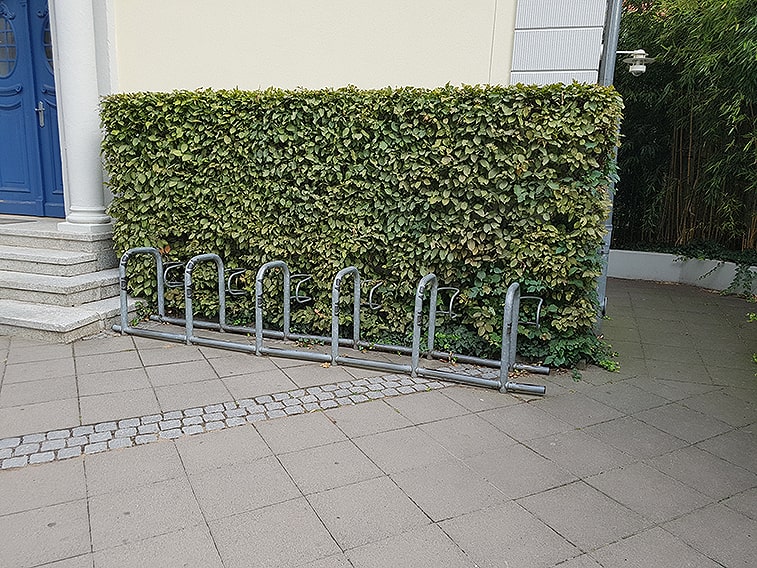 Dress up a simple bike rack by adding a green beech hedge behind it.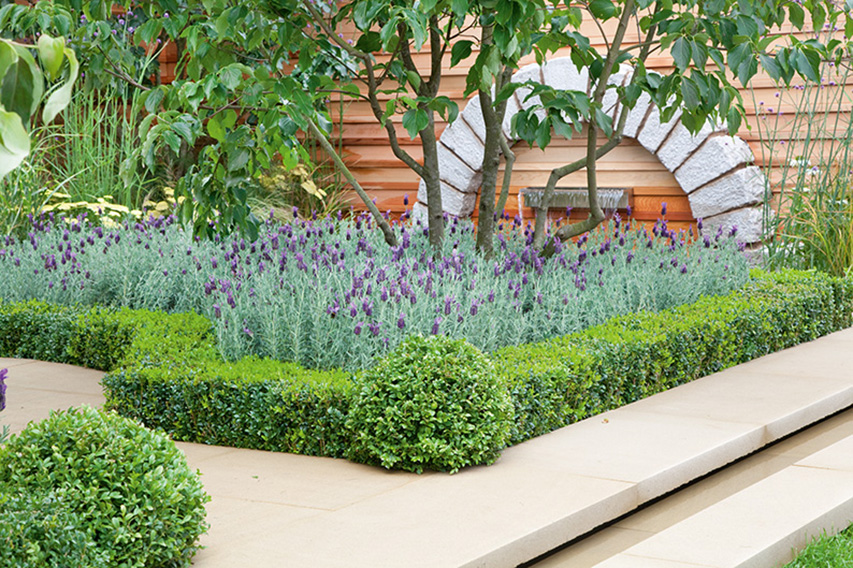 Since boxwood (Buxus) hedges can be maintained at a short size, they are an ideal choice for keeping a clean border along pathways like this.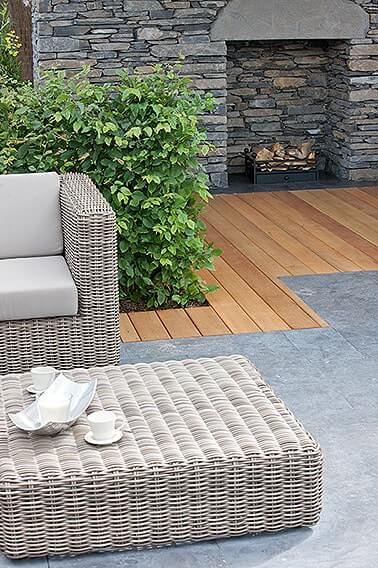 This outdoor room looks stunning with a leafy backdrop like a hornbeam (Carpinus betulus) hedge as is featured here.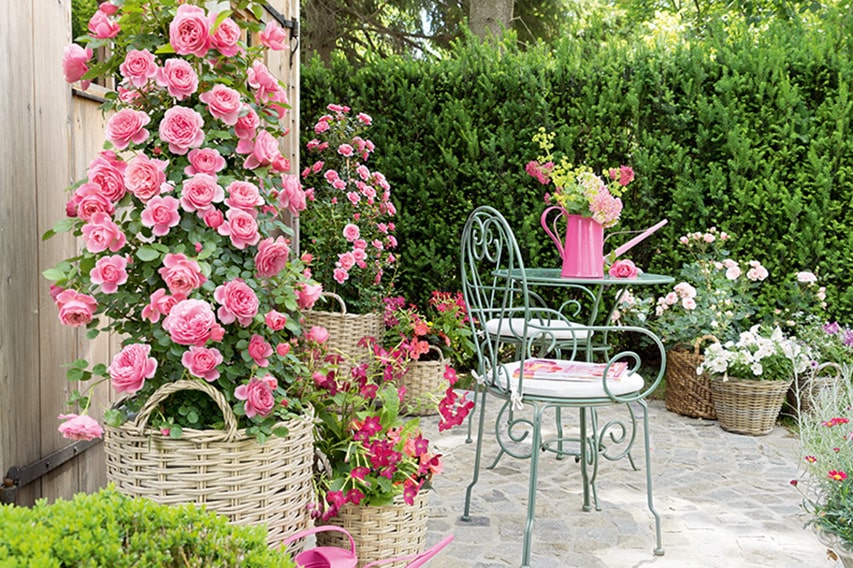 The flowers on this patio have even more stunning color when set against the dark green background of a yew (Taxus) hedge.